During today's F8 keynote, Mark Zuckerberg announced a number of new products and features for Facebook, including a new collaboration with Microsoft. With Docs.com, Microsoft's FUSE labs just launched an online document editor and viewer that connects directly to Facebook and uses all of the new social features for third-party sites that Facebook announced today. Docs, for example, allows users to share documents with their Facebook friends, edit them collaboratively and discover documents that their friends have uploaded to their profiles.

Creating Documents in the Cloud and Sharing them With Your Facebook Friends
With Docs, you can create new documents right in the web application or upload them from your desktop. Docs gives you the option to share documents privately or you can allow a select group of your Facebook friends to edit the document with you. A button next to every document allows you to add additional editors at any point. In our tests, the editor wasn't working properly yet (though the document viewer works just fine). We will take a closer look at Docs editing features once it is fully up and running.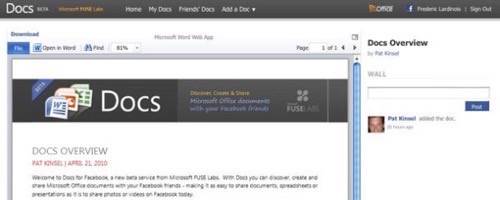 In addition to being able to create and view documents, Docs.com's Facebook integration will also allow your friends to discover these documents (if you choose to share them). You can also add a new tab to your profile page that shows all the documents you have shared with your friends. This also means that you can use Facebook to discuss these documents in public, just like you would discuss any other status update on the site.

Attacking Google
There can be little doubt that this is a direct attack against Google Docs. Even though Google Docs only offers relatively basic editing features, the service's collaboration tools allow it to stand out from Microsoft's products. Until now, collaborating on Microsoft Office documents was always a rather difficult task for Office users and generally involved using third-party software.
It remains to be seen how many people in an office environment will really want to connect their documents to Facebook. For students and other Facebook users who aren't using this tool in a corporate environment and just want to share documents with each other, however, this looks like a great solution.