Google Labs just launched Listen – an "audio magazine" that allows Android users to subscribe to programs and search terms to queue up their podcasts for easy listening. While Listen only offers English audio podcasts for now, the company plans on expanding to index video and content in other languages in the coming months. The product allows you to keep a couple hours of audio on your phone for your daily commute, lets you share podcasts with friends, and helps you find the latest updates for breaking news stories.

To get started, users can search for specific podcast titles or topics including technology, politics or news. From here, you can start listening immediately or choose to subscribe to a program and save it for a later date. The Listen Queue also allows users to rearrange their episodes in the order of their choice. The ability to search for new content via the device is something missing from many of the current iPhone services like RSS Player.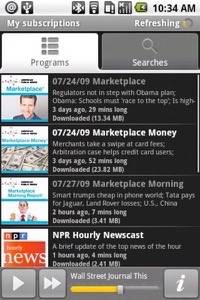 Listen is currently only available for Android-powered phones such as the G1 and myTouch 3G from T-Mobile. To download the application, users can scan the enclosed QR code and follow the onscreen instructions or look for Listen in the Google Android Market.