During his weekly address this morning, President Obama named Aneesh Chopra as the nation's first Chief Technology Officer. Chopra, who has effectively been doing much the same job at a state level in his role as Secretary of Technology for Governor Kaine of Virginia, will work closely with Vivek Kundra, the recently named Federal CIO, and Jeffrey Zients, the man Obama today named the first ever Chief Performance Officer.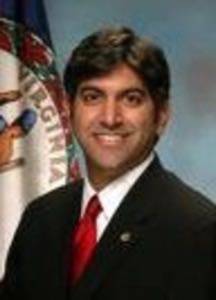 Last month, two Virginia congressmen recommended Chopra for the job, saying "Chopra's public and private experience in the technology field made him the right candidate," and pointed out his focus on healthcare IT "is ideal for a position that will have responsibilities dealing both with stimulus spending on healthcare and environmental programs."
From President Obama's weekly address today:
"I have named Jeffrey Zients, a leading CEO, management consultant and entrepreneur, to serve as Deputy Director for Management of the Office of Management and Budget and as the first ever Chief Performance Officer. Jeffrey will work to streamline processes, cut costs, and find best practices throughout our government.

Aneesh Chopra, who is currently the Secretary of Technology for Governor Kaine of Virginia, has agreed to serve as America's Chief Technology Officer. In this role, Aneesh will promote technological innovation to help achieve our most urgent priorities – from creating jobs and reducing health care costs to keeping our nation secure.

Aneesh and Jeffrey will work closely with our Chief Information Officer, Vivek Kundra, who is responsible for setting technology policy across the government, and using technology to improve security, ensure transparency, and lower costs. The goal is to give all Americans a voice in their government and ensure that they know exactly how we're spending their money – and can hold us accountable for the results."
Tim O'Reilly, the man who coined the term Web 2.0, claims that Chopra has been instrumental in helping him better understand Government 2.0 and how technology can be utilized to build a better government. He offers eight reasons why Chopra is an excellent choice as Federal CTO.
We've embedded a video of the keynote Aneesh Chopra gave at this year's State of the Net Conference earlier this year to give you an insight into the thoughts of our new CTO. In this 50 minute talk, Chopra discusses health IT, broadband policy and open education among other things.