Andrew Sorcini lives in Los Angeles, works as an animator for Disney and is the most powerful user that social news site Digg.com has ever seen. Known at Digg and elsewhere as MrBabyMan, Sorcini has submitted a site-leading 2,400+ stories that have hit the site's coveted front page. Those front page submissions have delivered an estimated 50 million pageviews to the sites the submissions came from. A good number of those submissions have been RWW articles, and we appreciate that.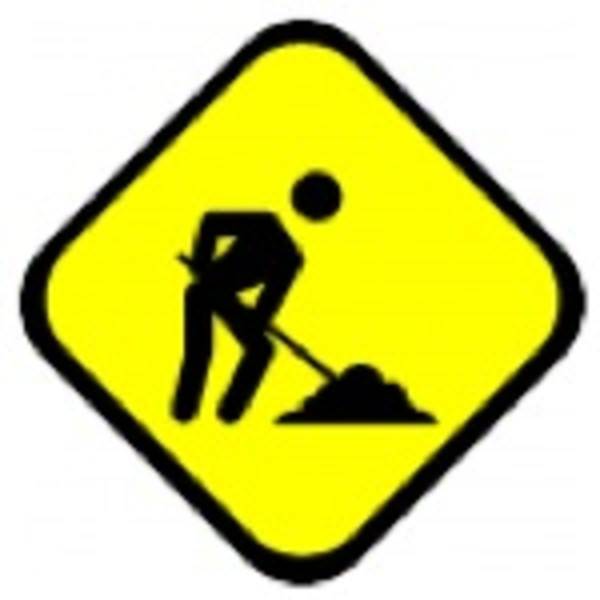 For months, a small but outspoken number of Digg's millions of other users have complained about seeing as many as three or four MrBabyMan submissions on the front page at one time. As we write this he has two front page stories. Those successes are outshined, however, by the most popular story on Digg Friday night: a cartoon accusing MrBabyMan of stealing stories from smaller Digg users.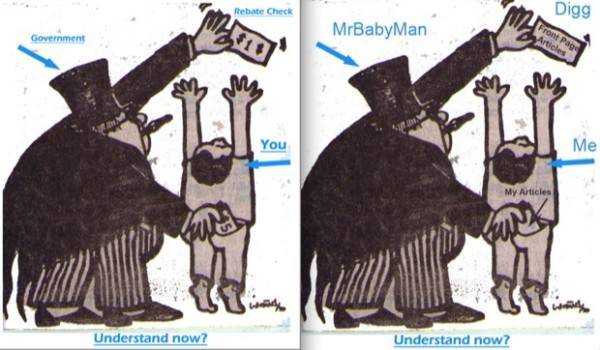 Just before noon on Friday, Sorcini submitted the image on the left to Digg. An obtuse critique of the US Federal Government's economic stimulus plan, the image was apparently on the minds of more people than just MrBabyMan. Just after noon the image on the right was posted by Kimberly Vogt, a software engineer at Lawrence Livermore National Security, girlfriend of Digg QA Analyst Jeremy McCarthy a Digg employee other than McCarthy and a rare non-employee to have reciprocal friendships with many of the top staff at Digg.
Innocent enough, right? It was submitted in the humor category and Vogt now says the image was submitted "all in good fun."
Either way, it provided an opportunity for angry Digg users to lash out at MrBabyMan. At 7:30 Sorcini posted a message to Twitter reading: "If this is how the majority of the Digg community feels, I'll quit. I won't be a part of a group that doesn't want me" – with a link to the critical, remixed cartoon.
By eight o'clock that evening the Vogt submission hit the front page of Digg – two hours before MrBabyMan's original submission went popular. At midnight a link to Sorcini's Twitter message hit the front page with the title "MrBabyMan Might Quit Digg?" By the time the bars closed Friday night more than 2000 people had voted for Vogt's cartoon and there were 750 comments left between the two negative posts. Vogt's was the most popular of all submissions made to the site on Friday. A heated debate raged in comments between Digg users of every degree of psychological maturity and perspective on the issue that you can imagine: should MrBabyMan go or should he stay?
The Charges Against the BabyMan
There are a number of criticisms that Digg users levy against Andrew Sorcini. The primary one, which Vogt's cartoon remix refers to, is that MrBabyMan submits duplicate stories that other Diggers have submitted, knowing that his superior prowess will eliminate any chance that the original submission will hit the front page.
The next criticism is that MrBabyMan uses an unfairly large network of friends and spam-like "shouts" to garner favors and give his submissions an artificial momentum that they don't warrant on merit alone.
Finally, it's frequently whispered that MrBabyMan and other top Digg users are being paid for submitting stories. There are certainly people willing to pay them.
MrBabyMan and Friends Respond
Criticism reaching this peak really upset Sorcini. He and a group of friends who often engage in hours-long group chats on Skype decided to write up a summary of the situation and see if they could find someone to write about it. A contact brought them me. I spoke with the group of six people for more than 3 hours late Friday night.
MrBabyMan's friends say that top digg users never knowingly repost something someone else already has unless the initial post is poorly submitted and not doing well. MrBabyMan says he never sends shouts to promote his stories and he doesn't get paid for what he does on Digg. The relationship between submission, promotion and money is more complex than simple pay for diggs, though.
I came away from the conversation with a number of conclusions. The dominant one is this. Andrew Sorcini's MrBabyMan persona is sitting at the top of a small network of loyal friends, made up of people like SEO marketers, PR agents turned would-be social media experts and other unsavory folk. That circle is further surrounded by an even larger network of millions of Digg users who try to have fun on the site but also wish they could find success there. Many of them no doubt with they too could find a way to make a living in the snake-oil filled circus that is "new media marketing," as many of the top Digg users have done.
In the middle of all this mess, though, MrBabyMan is one of the most warm hearted, genuine and in many cases naive people that you will meet anywhere. The Emperor is the only one wearing clothes.
Is He Gaming the System?
MrBabyMan says he has added friends to help promote stories because that's how the rules work, if he didn't need to do that he wouldn't. He believes that most of his critics are new users who haven't had enough experience yet to know how the site works. He says he's totally accessible and can be reached by anyone who wants to talk to him – though he didn't know that the email addresses on his profile were visible only to his friends until it was pointed out to him in our conversation.
"All I ever wanted," he said, "was just for the stories to live or die on their own merits. If everyone was on a level playing field I would love that – because I still have the skills to find the great stories…I'm not complaining about the algorithm, but I don't want to be vilified for working within the parameters of it."
Money and Digg
While Sorcini's editorial genius has put him in a place of total dominance over a site that symbolizes success for a world of marketers facing disruption of traditional media – MrBabyMan is one of the few people in the upper echelon of the Digg community whose income is completely unrelated to his activities there.
While mid-tier Diggers are far more likely to be engaging in pure pay-for-play, other people at various points in the hierarchy are building careers as "new media experts." The experience that lands them the consulting contracts they live on? A demonstrated history of success in promoting stories on sites like Digg. These people aren't being paid to Digg stories – they are being paid to do other things (like advising on social media strategy) because of their success on Digg. There may be nothing wrong with that (this author has a private consulting practice in vaguely related matters as well) but to claim that top Digg users invest as much time and energy into the site as they do entirely "for the love of it" and "to share good stories with people" – with no economic incentive, short or long term, is a cynical joke.
MrBabyMan may be one of very few people in the upper echelon for whom that is the case. He says he does no outside consulting and gets no payment for his activities on Digg. He's got a good job working as an illustrator for Disney. You could say the man helps create fairy tales on Digg, as well. The story of the democratically based user generated news site, driven by people in it for the love of the community, may be one fairy tale Sorcini helps propagate.
Surprisingly, the man doesn't have the sense to monetize what he does do online very well at all. He's the host for the excellent social media podcast The Drill Down, where the most successful users on sites like Digg discuss what's in the news and often news about the social media sites themselves. A small audience of rabid, new media savvy listeners get The Drill Down as a podcast or watch it streamed live on UStream video.




Sorcini does go to the trouble to sell ads on the Drill Down, but he asks his advertisers for so little money that it will hardly buy him a nice dinner each month. Ads on the podcast hosted by a man who has helped deliver probably 50 million page views since joining Digg two and a half years ago – are essentially free. Everyone reading here should go buy an ad right now, you'd be a fool not to given the price point.
That's genuinely not what it's about for MrBabyMan, he's not in it for the money. He just likes Digg, and he probably likes all the power he's got at the site – even if he does have to fend off a hostile cartoon from National Security geeks who happen to be a Digg employee's girlfriend sometimes.
He's human, too, so sometimes he fudges a little. "The only promotion I do," he said, "is Digging the stories my friends submit and keeping the chain of Digging going. That's the same thing everyone does and that's the system Digg has set up." Blind digging of friends' stories because they're your friends' stories, if that's what Sorcini is talking about, is frowned upon as contrary to the supposed essence of the site.
Generally speaking, Andrew Sorcini appears to be honestly dedicated to delivering value to the people of the Digg community. By being an entirely un-paid player in the game – he may be almost the only person in his circle whose exclusive motivation is benevolent. There's nothing wrong with making a living as a social media expert, though the term tends to be very loosely defined, but in their revolt against the financially incentivized, conspiratorial gaming of social news – those unhappy Digg users may have picked the least logical target in the guy at the top. There's no shortage of creeps in that scene but by all indications, MrBabyMan isn't one of them.
Is the kind-hearted MrBabyMan just a patsy for a shadowy world of less honest Digg power users? Is part of his job as top dog to be the fall guy when mass user distaste of other peoples' influence peddling and grey-hat tactics needs a scape goat? All of that seems possible. More likely, though, there's no one way to look at this story. The only constant, when I look at these events from different perspectives, is that Andrew Sorcini is a uniquely valuable member of the Digg community – whether they always appreciate him or not.