There are a lot of ways to collaborate online – wikis, forums, social networks – but there are very few providers that package all the tools together that a group might need. Grou.ps, a social groupware provider, aims to address that problem by providing its users one single package of integrated tools.

Like a Microsoft Office for social tools, Grou.ps offers the following modules: chat, blog aggregation, wikis, talks (forum + mailing list), photo albums, links (bookmarks and news), calendaring, maps, subgroups, and people (profiles).
Each of these tools integrate with third party services as well, so you don't have to waste time duplicating information in two different places. For example, you can sync your photo album with flickr; your links module can include your del.icio.us bookmarks; your updates can come in via Twitter; and the list goes on.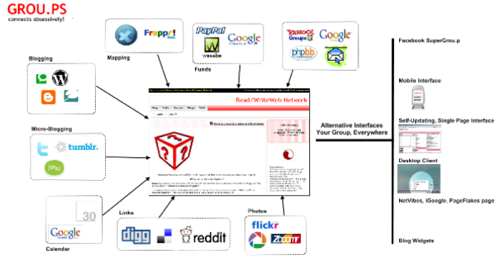 Each module can be customized as to its size and contents and, unlike some of Grou.ps' competitors, modules can co-exist on the same page. The group admin sets the permissions to these various modules at a fine level of control, specifying who can read the content and who can edit the content for each item.
The platform comes with different templates you can choose from, but none of them have any sort of Grou.ps branding – they are yours to customize.
Grou.ps also offer mobile access and a stats package, so you can see how popular certain modules or activities are. You can check out some existing groups from the site's homepage, or, to learn more, check out this video:
Grou.ps, backed by Golden Horn Ventures, is now going into public beta, but they already have over 150,000 users.
Disclosure: Emre Sokullu is a contributor to ReadWriteWeb.