On the most recent episode of ReadWriteTalk, I sat down with Bret Taylor and Paul Buchheit of FriendFeed. Both have been successful 'intrapreneurs' inside of Google. Buchheit created GMail; while Taylor created Google Maps with another one of the 4 FriendFeed founders, and then led the Google developer tools program. After leaving Google separately, they eventually started working together on FriendFeed, originally as Entrepreneurs in Residence at Benchmark (we get into more details on the podcast).

FriendFeed is a great example of a startup leveraging the current trend of using feeds in social networks. In this post, we'll give an overview of the FriendFeed service and how it compares to similar services.
Overview of FriendFeed
First of all, for those of you not familiar with FriendFeed. In our interview, Bret Taylor described it as:
"…a tool that lets you see what your friends and family and co-workers are up to on the web. You could see an aggregated news feed all of the blog post that they share from Google Reader, the photos that they've published on Flickr, the Twitter messages that they've posted and a variety of other sharing activity aggregated from the most popular social websites on the web and through the integrated feed. And then it promotes Water Cooler discussed around those items … Right now our user base is primarily using it as a collaborative news stream where they find interesting news post and discuss it and post related news items. It has become a really fun dynamic."
Here's a screenshot showing the service in action: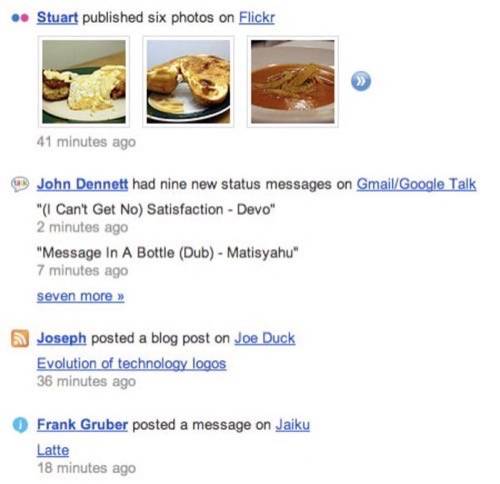 After describing the range of techniques for aggregating 25+ sources of content, Bret commented:
"In many ways, FriendFeed is really riding the trend of people supporting open syndication format[s] and APIs and it's something we're really appreciative of. But there's a time out of work to make that really genuinely useful where it doesn't feel like you're getting the output of a dumb machine. You actually do something useful so there is a fair amount of work to make that the right experience."
(emphasis ours)
Differentiators
Based on the fact that syndication is such a big trend, you might anticipate a number of companies (including social networks directly) being competitive with FriendFeed. Therefore, Paul's answer to who they compete with was quite interesting:
"Well there are a lot of products out there that are kind of superficially similar … But at the same time there aren't really any products that have quite the same user experience. And I think that's something that we all learn at Google and that a lot of times it's the subtle details can make a big difference. And so there's a lot of products that are focused more on the just the aggregation aspect of it. But we're really trying to go beyond simply aggregating to actually creating a pleasant social experience around the content."
(emphasis ours)
FriendFeed Value Add to the Experience
The challenge is obviously determining the right set of features to create this pleasant social experience. For example, through discussions and personally using the product, some of the useful things I've found FriendFeed doing on top of the aggregating the content include:
Filtering and grouping items together where they make sense. For example, if you upload a set of 50 photographs into Flickr, FriendFeed will group these together and choose a relevant thumb-nail image instead of inundating your friends with 50 photographs.
Mapping usernames from the services being aggregated back to FriendFeed users. For example if you write a message in Twitter to @SeanAmmirat, it would link to my Friend Feed account.
Recommending content from connections one degree away in your network, and commented on by friends. For example, if Paul & I are connected on Friend Feed and he comments on one of the items that his friend shares, it may be highlighted for me.
Conclusion
While FriendFeed has found one way to add value on top of syndicated content, I believe entrepreneurs have a ripe set of opportunities to create other value added experiences on top of these feeds too. Indeed, a few days after the interview I was approached by Dave McClure to moderate a panel at Graphing Social Patterns, on Social Networks and the Needs for Feeds. Bret will be joining me, along with Ian Kennedy from MyBlogLog, David Recordon from Six Apart and Kevin Marks from Open Social (see our interview with Kevin Marks here). If you have any questions or ideas that we could explore on the panel, please note them in the comments.
Disclosure: Sean Ammirati works for mSpoke, which has a feed management product called FeedHub.