The competitive bottleneck has driven brands to overhaul their email marketing strategy at regular intervals. That has led to a tremendous metamorphosis and turned it into an effective and scalable communication channel. If we look at the past decade, there have been multiple new entrants in email marketing trends. In 2023, we expect some other promising trends to rock the email world.
Here's a sneak peek into what the future holds for email marketers and subscribers alike.
1. Marketers will switch to click-through rate and conversions
As Apple has launched Mail Privacy Protection, users will be able to hide their IP address. Consequently, it will not allow marketers to determine their location and other online activity. It will also prevent the accurate recording of the email open rate.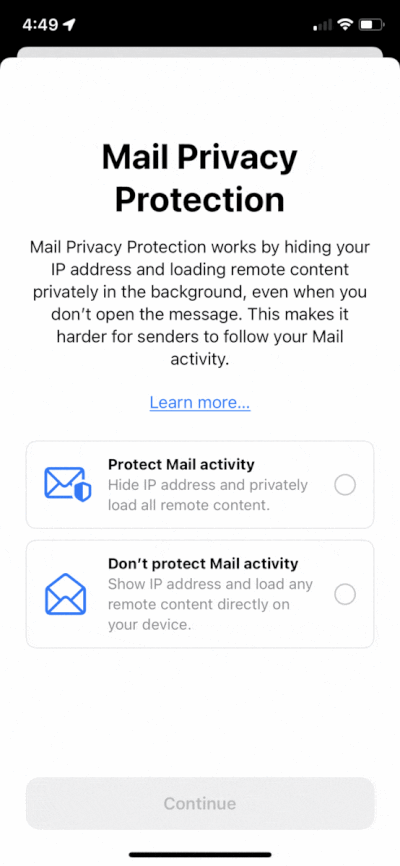 Owing to these changes, email marketers will have to switch to click-through rates, conversions, and other reliable metrics. Open rate will no longer be an authentic metric to measure email campaign performance.
In addition, Apple's MPP also implies that senders will have to be more respectful of the subscriber's privacy and preferences.
2. Machine learning will give a leg up to the segmentation efforts
Marketing professionals will be able to use machine learning and interest-based tags to automatically collect data on the recipient's interests according to the links they have clicked through in the emails. It will facilitate better segmentation which will ultimately help in sending the right message to the right person at the right time. That's what hyper-personalization is all about. It brings us to the next trend.
3. Hyper-personalization will strengthen its foothold
Micro-segmentation and Artificial Intelligence have paved the avenues for hyper-personalization. You no longer need to send boring mass emails that might not be relevant to everyone. AI has made it possible to track the user's preferences, past purchases, previous interactions, and resources downloaded. You can draft tailor-made emails based on these insights. Naturally, these emails will fare better on the analytics charts.
4. BIMI will go from a nice-to-have to must-have
BIMI (Brand Indicators for Message Identification) is a new standard that allows brands to add the logo beside the sender's name. It will build better brand credibility and boost your visibility. While it looked like a gimmick when it was initially launched, it will soon grow to be a best practice.
One of the most important uses of this technology is that it will prevent spoofing and phishing attempts. It also enhances inbox placement rate and overcomes deliverability issues. Users will be keener to trust your emails when there's a logo attached to them. And you know the good news? Almost all the popular inbox providers support BIMI or are contemplating the same.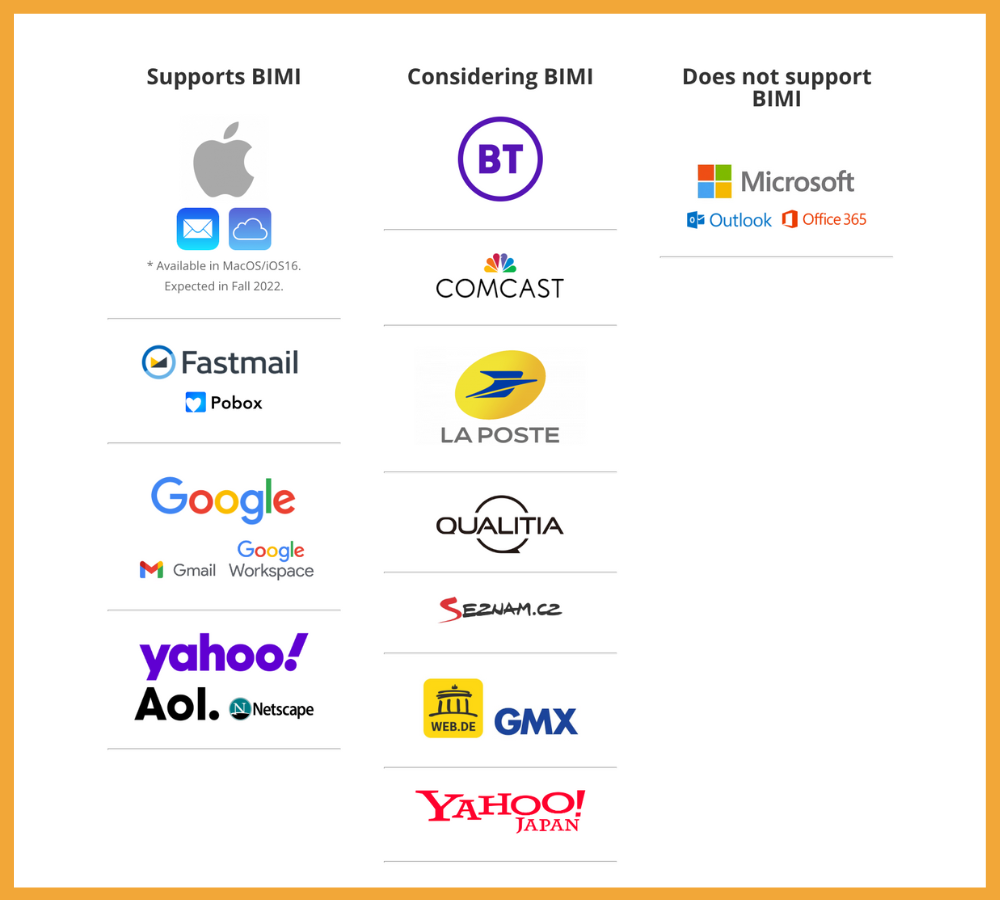 Image Credit: BIMI Group; Thank you!
5. Businesses will utilize their cross-channel customer data to create better emails
Third-party cookies are going obsolete, and Apple has launched Mail Privacy Protection. Also, app tracking has become more pronounced in the current times. So, businesses will need to take the help of cross-channel customer data to build their email and digital marketing programs.
Sadly, there is no central repository to maintain this data. As a result, it prevents the usage of data more effectively. Customer data platforms help solve this problem and mobilize the data for usage across different channels. It will translate to more relevant personalization, better segmentation, and smarter automation.
6. Modular email templates will get immensely popular
Suppose you have to send ten email campaigns in a month. Imagine all the work it will take, starting from conceptualizing the email to writing the copy to design, coding, testing, and deployment. Now, sprinkle some resource crunch and additional urgent emails to be sent. Scary, right? This is not a rare occurrence for any email marketing professional.
So, to combat this issue, modular email templates will be the way ahead. With the help of such templates, you will be able to create editable blocks in the email templates. These reusable emails will make it a breeze to send multiple campaigns. Also, it will help maintain a consistent look and feel for every email that you send.
7. Brands will take an omnichannel marketing approach
Talking about consistency, there's one more thing brands will resort to in the coming days. It is an omnichannel marketing approach. Marketers will focus on social media, text messaging, in-app marketing strategy, and search engine marketing, in addition to emails.
As an example, if you are promoting a Valentine's Day offer through emails, create a social media post and in-app notification about the same. It will create a cohesive experience for the users while making sure that your offer reaches a larger audience.
8. Strike a balance between promotional and informative emails
Many brands keep sending marketing emails to their subscribers. It gets boring, and as a result, people get disengaged. They will stop opening your emails, which in turn will affect the deliverability rate and the sender's reputation. So, you must send informative emails in addition to promotional emails.
Create newsletters, product update emails, and other types of emails that go beyond discount offers and sales pitches. The bottom line is that you must try to deliver value through your emails.
9. A/B testing will be back on the agenda
A/B testing is an effective tactic to achieve more out of your email strategy. It involves testing two or more different versions of an email campaign and then figuring out which one works the best for you. In 2023 and the coming years, marketers will not only test the one-off campaigns but their automated emails too.
10. Automation will be more advanced than ever
Basic email automation has been around for quite some time now. The future will witness an advanced email automation strategy. It will entail complex workflows wherein marketers will send a series of welcome emails, cart abandonment emails, and re-engagement emails. They will be more open to using enterprise-level ESPs and powerful CRM tools like Marketo and Salesforce for the same.
11. Take an inclusive approach while crafting your emails
Accessibility and inclusivity will not be buzzwords anymore. Marketing professionals will take these concepts seriously and incorporate them into their emails. Whether they are choosing stock photos or designing images from scratch, inclusivity will be an important parameter they will consider. As a result, emails will reach a wider subscriber base by catering to their special visual and cognitive needs.
12. Videos in emails will take the center stage
Video email marketing will get more popular as subscribers are more open to consuming video content. It is perfect for an event email marketing, SaaS industry, and B2B marketers who wish to demonstrate their products.
13. Email platforms will enable more seamless integrations with third-party tools
ESPs and CRM platforms will allow seamless integrations with third-party tools like Zapier, HubSpot, and others. Through these integrations, brands will be able to manage their data and processes in a more organized manner.
14. Long-form emails will make a comeback
Contrary to public opinion, people do read long-form emails if they find the content to be valuable. In view of the same revelation, marketers will revive long-form emails and employ them for their newsletters and other forms of communication.
Wrapping Up
Looking at all these trends, you can be sure that 2023 will set new benchmarks in email inboxes. With breakthrough technologies like AMP and BIMI gaining immense momentum, subscribers will get to see a lot of intriguing emails in the days to come.
Featured Image Credit: Provided by the Author; Thank you!