You never know what to expect when you're expecting, not to mention all the unexpected following the baby's arrival. Ask any parent: things can get stressful when you simply don't know and God forbid you ask Doctor Google for their professional opinion.
But it doesn't have to be that way. Try these new gadgets to stress less about your pregnancy and sleep more.
Belli by Bloom
Meet Belli: your personal pregnancy coach, made by San Francisco's Bloom.
Bloom created this wearable device for women in their third trimester. It tracks the frequency and duration of their contractions in real-time  — like a heart monitor would track your heartbeat — giving expecting mothers a peace of mind as well as a safety tool that can detect anything unexpected early on.
Belli is a safe solution for both moms and their babies. It's all about "passive listening," meaning no energy is transmitted into the body, unlike during an ultrasound or Doppler. The sensor communicates with your smartphone via Bluetooth, which is well within the safety recommendations both in the US and in Europe.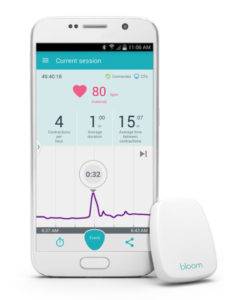 Expecting moms can order Belli via Belli's official website. It's a subscription based program, starting at $29/week. Once the baby is delivered, the sensors can be returned straight back to Bloom vie a pre-paid envelope.
*Belli's updated version coming up over the next couple of weeks will also allow moms-to-be to measure their stress and activity levels, as well as sleep and kick counts. It will also be able to answer many pregnancy related questions and teach parents-to-be about health habits. 
Owlet baby monitor
The Owlet baby monitor is a small electronic device designed to be strapped to baby's sock at bedtime.
The smart sock acts as a nanny, staying up all night with your little one. It silently checks baby's oxygen levels, heart rate, temperature and sleep, notifying parents immediately is any potential problems arise. Getting a better night sleep is so much closer now! It prices at $249.99 at store.owletcare.com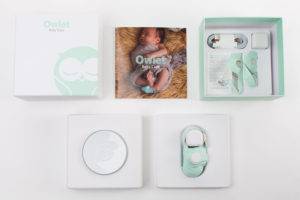 BabyGigl
Baby Gigl (which the company says stands for "glug glug") is a smart baby bottle made by the guys behind the HAPIfork (which helps you achieve your weight goals by forcing you to eat slowly).
The smart bottle calculates the weight and angle of your baby bottle and works out the optimal angle that is should be held at. Handling the bottle correctly prevents the baby from drinking air bubbles along with the milk, preventing gas and colic. It also helps with baby's reflux and alerts you if there are lumps clogging the bottle, saving lots of baby tears and parents' frustrations. It prices for about $100 at slowcontrol.com
Pacif-I
Pacif-i is the world's first smart thermometer pacifier. The Bluetooth technology is available for iOS and Android devices, and suitable for babies of all ages.
Taking your little one's temperature has never been easier. An added plus? You will never lose the pacifier or leave it behind, as your phone will alert you as soon as it appears to have gone missing! Oh, and you can use it for more than one baby.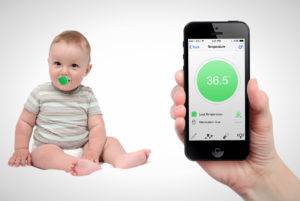 Currently it prices for about $50 pacif-i.io/shop
Make your day-to-day just a little bit more peaceful with those high tech devices. Less time stressing and more time enjoying the special time together is a true win-win.