Bloomsky, an Internet of Things (IoT) startup, has announced two new devices to replace its original weather station, which was funded on Kickstarter in 2014.
The next generation weather station includes the Sky2, a camera station that measures temperature, humidity, barometric pressure, UV exposure, and precipitation.
See Also: Can Arable's IoT tech end world hunger?
Users can connect the Sky2 through Bluetooth LTE, which wasn't available on the previous version. WiFi connection is also available through a connected smartphone.
Sky2 comes with a solar panel that should provide "continuous operation"; hopefully that means you rarely have to manually charge it, a problem most outdoor IoT devices face.
The camera takes photos every five minutes, and at the end of the day a time-lapse will be available on the Bloomsky app. The photo will also be uploaded to the Bloomsky weather map.
Bloomsky also announced Storm, a new weather station that measures rainfall, wind speed and direction, and current UV. The device is also able to detect bird spikes, a useful feature for theme parks or outdoor conventions that don't want birds living close by.
It connects to the Sky1 (first-gen) or Sky2 and transmits data over the 433MHz radio frequency for constant updates. Storm needs at least one of the Sky devices in order to function.
Bloomsky says both devices are compatible with IFTTT, Nest, SmartThings, and a few other smart home devices.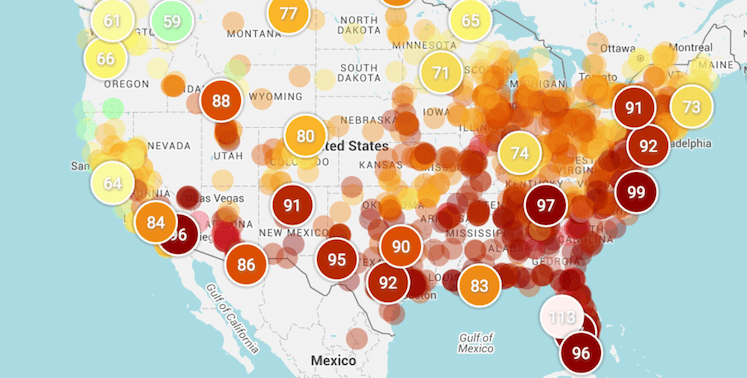 Bloomsky's footprint growing
All data collected on Sky2 or Storm will be uploaded to the Bloomsky weather map (seen above). The startup reportedly receives data from over 100,000 sources, mainly located in Northeast United States where the map is filled with temperatures.
Asked who is buying Bloomsky's weather stations, Daniel Han, director of marketing growth, said:
"As of today, we have devices in small businesses such as restaurants, hotels/Airbnb, golf courses and  construction companies. Additionally, we have stations with government institutions such as national parks, fire departments and schools. Schools have been increasingly interested in promoting meteorology for education as well as accurate hyper local weather condition tool."
The Sky2, solar panel, and Storm will be available in a bundle for $249. Customers can also purchase the bundle without the Storm for $199. Bloomsky will start selling the new units on July 19.