This excerpt from ZK Research's white paper The Top Five Reasons to Deploy Software-Defined Networks and Network Functions Virtualization is sponsored by Brocade. It reflects the views of the sponsor, not ReadWrite's editors.
There are numerous reasons why service providers should utilize software-defined networking and network-functions virtualization in conjunction with a fabric architecture. SDN and NFV improve the dynamism of the network, create fluidity of network services, and improve network management.
Of all the reasons why service providers and enterprises should make SDN and NFV an imperative today, five are crucial:
Optimized user experience: The data center's evolution into a more agile environment is important for businesses today. However, data center transformation is largely undertaken to improve IT processes. Using SDN and NFV extends the value of network agility to the entire network, and ultimately to the entire workforce. SDN and NFV can deliver a consistent, reliable and high-quality experience to all users, which has a significant impact on worker productivity. This is crucial for network managers; a 2014 ZK Research study revealed that improving the user experience is now the top management initiative for network professionals. It can also help service providers differentiate themselves in a fast-growing competitive landscape.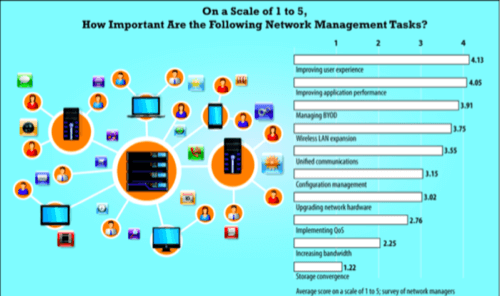 Alignment of IT infrastructure with business goals: Today's business leaders are focused on enabling higher levels of worker productivity and improving business agility while lowering the overall cost of running IT. Achieving this can be a daunting task because the IT environment has become increasingly complex. For decades, IT leaders have had to make trade-offs and choose products that either reduce costs or improve productivity because products rarely accomplish both. SDN and NFV can help create an environment where IT leaders no longer have to choose between IT projects that can either control cost or boost worker productivity.
Automation of IT processes: ZK Research reveals that the average lead time to deploy new applications is four months—hardly the definition of an agile business. This lag can cause service providers to fall behind the competition, and cause enterprises to miss out on new business opportunities. The long deployment cycle is attributed to the human latency caused by manual coordination among various IT silos. The process of making changes to the infrastructure can be equally long and business-impairing because the challenges related to process coordination also exist with change management.

In contrast, using SDN and NFV enables IT processes to be orchestrated and streamlined or even fully automated based on business policy. Now when applications require changes to the server, storage and network tiers, the changes can be made simultaneously from a centralized management console.
Cost-effective, optimized application performance: With legacy IT models, IT executives often faced a difficult decision. One choice was to overspend on the network, provision it for peak utilization, and have it sit nearly idle the majority of the time. The other choice was to manage costs and provision the network for normal usage, and risk poor performance at peak times. The combination of SDN and NFV now allows IT leaders to provision the network at normal levels and then dynamically add resources when required. This optimizes application performance because applications will have the right level of network resources during normal and peak usage periods while reducing the size of the spare hardware pool.
Reduced infrastructure costs and service complexity: With traditional networks, each location typically requires dedicated devices for each network service, no matter how small the location. This means each branch office would have its own separate router, firewall, VPN device and other devices to deliver all the services required. This "service chaining" is highly inefficient because each device must be configured individually, which increases management and troubleshooting complexity. In contrast, NFV enables multiple servers to run on a single hardware platform, reducing both troubleshooting and provisioning times. Service providers will increase the profitability of their services by leveraging SDN and NFV to reduce operational costs and hardware costs.
Service providers and businesses should consider not only the immediate benefits for the network, but also the long-term role that the network will play in the era of cloud computing. Combining SDN and NFV with an underlying network fabric architecture provides an excellent foundation for IT to leverage the cloud in order to shift to an "as-a-service" model.
Photo courtesy of Shutterstock
This excerpt from ZK Research's white paper The Top Five Reasons to Deploy Software-Defined Networks and Network Functions Virtualization is sponsored by Brocade. It reflects the views of the sponsor, not ReadWrite's editors.