A growing number of hardware makers are searching for the best way of bringing virtual reality (VR) to the masses: Current contraptions cover every price point and style from Google Cardboard to the Oculus Rift (consumer version due 2016). The AuraVisor, currently raising funds on Kickstarter, sits somewhere between the two.
Like Cardboard and Samsung's Gear VR, the AuraVisor goes for a cable-free approach. Unlike those phone-based offerings, this one integrates all the computing power directly into the headset itself—no need to drain your smartphone's battery or feel like you're jacked into The Matrix, just to enjoy a 360-degree film.
See also: Samsung Unveils A Cheap, Mass-Market Gear VR For $99
That's the big sell here: Not only is there no need to run a thick cable from a computer, there's also no need to slot in a smartphone. Everything you need is integrated and ready to go out of the box. The AuraVisor makers say that makes for a smoother, more powerful graphics experience.
Consider AuraVisor more evidence of how VR makers, small and large, are trying all sorts of approaches to tackle the varying issues brought on by this nascent technology.
Going All In With VR
The AuraVisor platform is based on Android, and its technical documentation covers both 3D movie and 360-degree video support. To get up and running quickly, users can get started with Cardboard-compatible apps already available on Google Play. A developer kit will be available soon, while backers pledging £135 ($210) or more get a Bluetooth controller thrown in.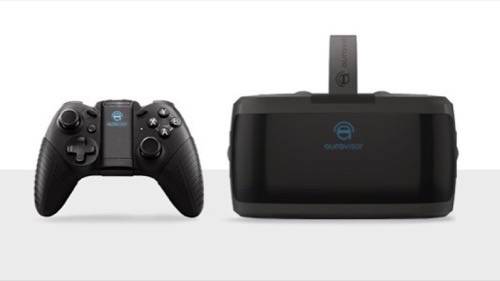 Of course developers are likely to gravitate toward the bigger names and more popular products. But it sounds like the AuraVisor team aims to take on Oculus—there's support in the SDK (software development kit) for Unity Engine titles, for instance. The SDK is coming out "as soon as possible" after the campaign ends at the start of December, AuraVision said.
"We are working with a number of key partners to deliver more apps and content, including movies, live streaming events, games and educational experiences," the campaign page reads. "There is already a huge selection of apps and videos ready to use. The AuraVisor will ship with a number of apps and games pre-installed to provide a true 'out of the box' set up."
Earlier this year the makers of the Fove VR headset also ran a successful Kickstarter campaign, making for a cheaper, smaller-scale run of devices that could give the likes of Oculus, HTC and Sony something to think about. (Samsung announced a $99 headset in September.) Although an independent project may not have compatibility from the likes of the PlayStation 4 or Xbox One to call on (yet), they're priced competitively enough to attract the casual gamer or intrigued VR movie fan.
That the AuraVisor can now offer integrated high-quality graphics in a wireless headset costing just a couple of hundred dollars is testament to how quickly the technology is moving—and even Oculus founder Palmer Luckey knows the importance of a tether-free virtual reality experience. No doubt he would approve of the Kickstarter funding route too.
Images courtesy of AuraVisor