Blackbox developer Ryan McLeod thought he'd found the perfect use for 3D Touch on the new iPhone: A portable scale app called Gravity that tapped into the pressure-sensitive technology to weigh small items placed on a spoon. Unfortunately, Apple didn't like the idea—McLeod's app has been rejected because "the concept of a scale app was not appropriate for the App Store."
With this, Apple's message for developers seems to be: Support 3D Touch as soon as possible—just don't get too creative with it.
See also: Apple Wants You To Peek And Pop For Info—Instead Of Googling
McLeod initially suspected his app was rejected because it was misconstrued as a fake. So he sent back an appeal with a demo video showing Gravity in action, and spoke to an Apple representative over the phone, but he was unable to get a reversal on the decision. When it comes the App Store, Gravity was sunk.
Apple's objections could have stemmed from concerns over the app's possible use with illicit substances, McLeod mused, or maybe the potential for damage to the screen—though the app does issue a warning about going over a dangerous weight. Another possibility: Perceived misuse of the API. The developer admitted that, "Gravity makes odd use of the API and 3D Touch sensor."
Whatever the reason, it's a shame—although not all that surprising—to see Apple playing a cautious game with 3D Touch implementation. If you're thinking about a creative use for it, you may want to double check with the powers-that-be at Cupertino before investing too much time and effort into it.
A 3D Touch Revolution?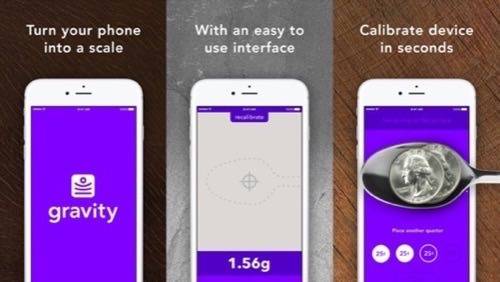 3D Touch is one of the key new features differentiating the iPhone 6S and iPhone 6S Plus from every previous model: The nascent technology, which also exists in a similar form on the Apple Watch display and the trackpad on the new MacBook, lets users access menus and extra options with a harder (not just a longer) press.
It's broadly comparable to a right-click on a computer, unlocking extra menus and shortcuts. Since presumably it wouldn't hold core features, developers would able to support 3D Touch without necessarily abandoning older iPhones, which don't include the necessary hardware.
For Apple, a company hardly known for offering free and full access to the inner workings of its OS, Gravity could be an attempt to "hijack" 3D Touch for a use it wasn't intended for.
Hopefully it's not the beginning of a trend. Something like a digital scale really shows off what 3D Touch is capable of, and other developers may have other intriguing ideas.
McLeod's Medium post is an interesting take on getting 3D Touch to work without a finger: After several trial runs he and his friends landed on the spoon as the "conductive, capacitive, common, and curved" object required for 3D Touch to be activated.
They haven't given up hope yet: "We have a strong respect for the subjective process Apple uses to maintain a selection of high quality apps and look forward to seeing other creative uses of 3D Touch," he wrote, "but do hope for a day when Gravity can be one of the hand-picked, who-knew-a-phone-could-do-that-apps anyone can download on the App Store and have in their pocket."
Perhaps he'll have better luck on Android.
Images courtesy of Ryan McLeod