Few things are as hyped as the Internet of Things (IoT), so why is the wearables developer population shrinking?
According to a new VisionMobile report, 21% of IoT developers have near-term plans to develop for the wearables market, down sharply from 28% just six months earlier.
See also: The Best Shot At Success For Indie Developers: Go Work For "The Man"
While long-term interest in wearables remains high, in the short term, developers seem content to wait for the market to mature.
Honey, You Shrunk The Developers
Over the last year, the wearables market has exploded, with shipments booming 223% between Q2 2014 and Q2 2015, according to IDC. That data is backed up by a Forrester report which concludes that "consumer adoption has taken off."
Still, we need to put "booming" in perspective.
Apple's Watch is now second only to Fitbit in terms of volume, but with a total pie of just 18 million units shipped in Q2 2015, we clearly have a long way to go before the wearables market can pay the rent for a large population of developers.
This may be one reason that the wearables developer market has actually declined over the last six months, as VisionMobile survey data shows.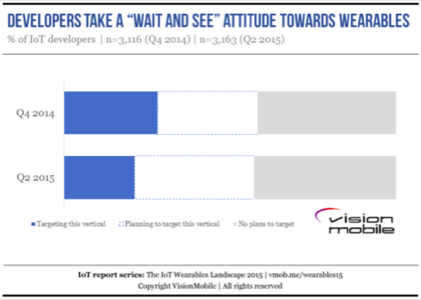 As can be seen, long-term interest in wearables hasn't waned. Instead, it grew during this same period. But much of the heady interest of Q4 2014 has taken a more pragmatic turn in Q2 2015, even despite (or because of) those 18 million units shipped.
Feeding The Dog
None of this changes VisionMobile's original forecast that IoT will require millions of developers by 2020. It will, and wearables should drive a big chunk of those expected 4.5 million developers.
But there's a peculiar dissonance between where those developers live, and the platforms driving wearables.
For one thing, most of the wearable developers are in Asia Pacific (44%), nearly as much as North America and Europe combined.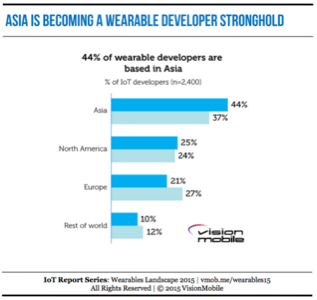 But remember those wearable shipment details?
Fitbit and the Apple Watch dominate shipments, and most of their business is in North America and Europe. Fitbit has been trying to saturate Asia-Pacific but has been struggling, falling behind the Misfit in China. Android leads the Asia-Pacific market in both smartphones and smart wearables.
In other words, the developer population is misaligned with the wearables market.
This will sort itself out, of course, but it could be crimping near-term plans, as the developers most likely to build for the wearables market are in areas with comparatively little traction (in terms of shipments). I suspect we're seeing Western developers take their time to think through their approach, while APAC-based developers are retrenching as they wait for shipments in their market to catch up with expected demand.
Lead photo by Shinya Suzuki