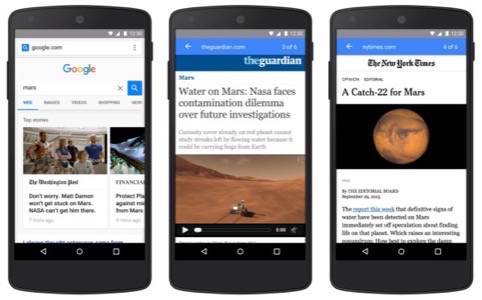 Both Facebook and Apple believe they've built a better home for news content on mobile devices—self-contained apps where load times are fast and ads are discreet—but Google isn't going to lie down without a fight.
The result is the Accelerated Mobile Pages Project, a new open-source HTML standard available to all that uses existing web technologies to do exactly what Facebook and Apple are doing: Creating a structure where pages appear instantly and advertising is tastefully added (this being Google, of course, ads stay in the picture).
See also: How Small Changes To Google Search Can Punch Your Web Traffic In The Face
AMP HTML, as the new framework is called, cuts out some of the more taxing aspects of HTML, CSS and JavaScript, parts that Google wants webmasters to replace with custom elements when richer content is required. Additional custom elements come as part of the package, including image and video holders, as well as embed handlers for services like Twitter and YouTube. Lightbox and carousel components come along for the ride too.
The standard promises to paint pages more quickly, as it modernizes the code along the way.
Hitting The Gas Pedal On The Web
"Consumption of news articles, and similar relatively static content, is often painfully slow, with pages taking a long time to load," writes Malte Ubl, the AMP Project Tech Lead. Ubl points to the example of pages that continue to build up over several seconds after text appears, cranking away to deliver ads and images. "The result is an often jarring experience of janky scrolling and users needlessly losing their reading position," he said.
Ubl's approach to this difficult problem was to reduce the scope and focus on one area. "The Web today is many things: An application platform, an e-commerce platform, a content platform, a gaming platform, and so much more," he said. "We decided to focus entirely on static content as it lends itself to more radical optimization approaches that are easier to apply across the board."
AMP Project code is now live on GitHub and Ubl says the intention is to "start a conversation" with the entire web community. And as for those ads, the rules are the same as for other types of page content: You can stick around, but only if you behave.
What's In It For Google
With one swoop, Google is looking to foster stronger relationships with web developers and publishers while improving the user experience on mobile and matching Apple's attempts to clean up online advertising.
The company says Twitter, Pinterest, WordPress, Chartbeat, Parse.ly, Adobe Analytics and LinkedIn are already on board—and more partners will be added soon. (It would appear that plenty of behind-the-scenes discussions have pre-empted this announcement.)
Google is promising support for subscriptions and paywalls while also offering to cache publisher content on its own servers, free of charge, to support faster access across the globe. The company knows that, if it wants to fend off the threat of Facebook Instant Articles and Apple News, it needs to give publishers and website builders some very good reasons to stick around.
Image courtesy of Google