Google teased its smart home initiatives Weave and Brillo earlier this year at I/O, and now the tech giant's Nest division is pushing its own smart home standard out into the real world. Nest Weave, announced Thursday, is a protocol for Internet of Things gadgets that lets them communicate with Nest devices and each other, even without Wi-Fi.
It's actually been built into Nest products for several years, according to founder and head of engineering Matt Rogers. Battery power and device size can be pesky challenges for certain kinds of products, and being able to ditch Web access capabilities can make a big difference.
See also: Nest Weave Arrives To Connect The Smart Home (Dumb Appliances, Too!)
But perhaps the biggest benefit is that, with Nest Weave, appliances can communicate with, say, a Nest thermostat and other home gadgetry, even without an Internet connection.
"Nest Weave lets devices talk directly to each other and to Nest," said Rogers. "And because it's reliable, compact and secure, it works great for all kinds of products—like a lightbulb that needs to turn on and off without any lag time, or a door lock that runs on battery power, or a security system that needs to work even if Wi-Fi goes down."
Nest says that developers and manufacturers will be able to incorporate Nest Weave into their devices from 2016.
Weaving The Nest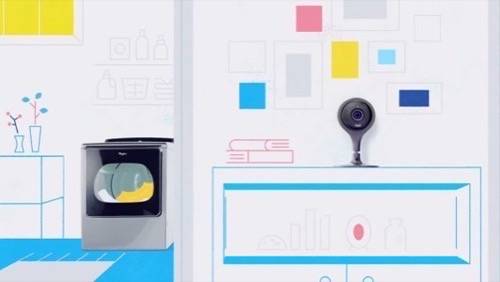 With Nest Weave, third-party devices can talk to the company's smart thermostat, smoke alarm and Nest Cam connected camera. It also allows "Dumb" devices without any Wi-Fi support to become part of Nest's "mesh network"—a hubless communications model that lets gadgets connect directly to each other.
Weave builds on its cloud API and its existing "Works with Nest" program. The ultimate aim is for smart home users to spend less time setting schedules manually—if a Nest Cam detects that no one's home, for example, it could turn off a smart light through Weave. According to Nest, 1 in 8 of its users already have some kind of Works with Nest device installed at home.
The local mesh network created by Weave is designed to be low latency, Nest says, so the devices can connect to each other quickly, without lag. They can also operate irrespective of where the home router is positioned.
Nest also announced a new camera API (Application Programming Interface), so developers can tap into the Nest Cam. The reason: to allow third-party devices to take advantage of the Nest Cam's motion and light sensing features.
That is, assuming developers are happy to adopt it while they're busy wiring support for Apple's HomeKit and Samsung's SmartThings into their products too. For startups looking to launch something on the crest of the Internet of Things wave, there are a growing number of "Works with…" programs to keep track of.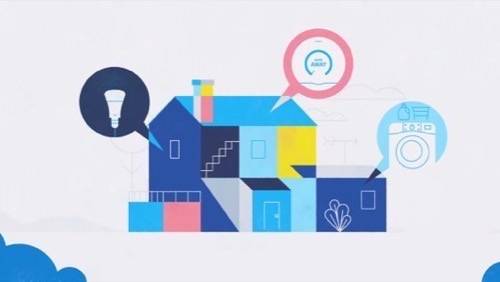 Nest is offering a sneak peek of one Weave-enabled product: A smart lock produced in partnership with Yale, due in 2016. It doesn't have Wi-Fi connectivity of its own, but it can piggyback on a Nest thermostat to get online and keep homeowners informed about what's happening. The lock is going to be part of a new Works with Nest store, which is "coming soon."
Nest Weave gives device makers the freedom to cut down on components and circuitry, as well as tighter integration and simpler automation with Nest products; at the same time Nest and Google get the opportunity to become the heart of millions of smart homes.
"Whether you want to make an app, hardware product or both, you can pick and choose whatever you need: An operating system, communication protocol, cloud services, user accounts, security and more," adds Rogers. "There's a lot that goes into building a connected product, and we're here to help."
While Nest is a Google division now, it still operates pretty independently from the mother ship (though it did help out on some of its parent company's other smart home initiatives). How all of these pieces snap together, or whether they will, isn't entirely clear. But on its own, this looks like Nest's biggest play yet—and it's a comprehensive package. In other words, your move, Apple and Samsung.
Images courtesy of Nest