Though they're not full virtual reality, 360-degree videos are at the vanguard of the VR revolution: They give a taste of what the technology can do, they're relatively easy to make, and can be viewed in Web browsers and on smartphones without the need for an expensive headset.
YouTube has a channel dedicated to these clips and now Facebook is joining the party (a move Mark Zuckerberg promised back in March at F8). From today, these 360-degree videos are rolling out into the News Feed.
The format is exactly what it sounds like: As a 360 movie plays, you can rotate your point-of-view to peer in any direction, whether that's by moving your head inside a Samsung Gear VR headset or clicking and dragging in a Web browser. On a smartphone, you swipe on screen or physically move the device, so holding it above your head shows the view above.
As VR aficionados will want to note, these videos differ from "full" virtual reality in a couple of key ways. There's no depth perception (you feel like you're in a video sphere rather than an actual world) and you can't control the action or the position of the camera. Still, it's a gentle introduction to the world of VR, and much more straightforward for both content creators and publishers.
Hence tools like the Sphericam 2. With a camera costing around a thousand dollars and a Facebook or YouTube account, anyone can now make and publish a 360-degree video, which isn't something you could say about full VR experiences.
The Facebook Angle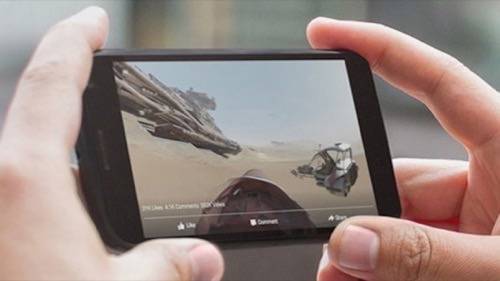 Facebook will be hoping this low barrier to entry will encourage users to get uploading 360 footage, though it's signed up some professionals to get the feature launched. Clips from the likes of Disney and Discovery are going to be uploaded today to show off the advantages of the technology.
And it's a versatile format too, one that works equally effectively whether you're watching a behind-the-scenes Star Wars documentary or a movie from your great-aunt's birthday party. The camera captures the action in all directions and viewers can turn wherever they like.
"We're focused on building experiences that help publishers and creators reach, grow, and engage their audiences in new and immersive ways," said Facebook's Nick Grudin in a blog post. "There's a whole world of publishers and storytellers who are at the cutting edge of innovating with this immersive and interactive medium. If you're a publisher developing 360 videos, we hope you will share your creations with your global audience on Facebook."
As well as ensuring there's lots more content ready to go when the Oculus Rift headset debuts next year, it also gives Facebook parity with YouTube in the ongoing battle for dominance of the video market.
The feature will roll out over the next few days on the Web and on Android, and will appear in the "coming months" on iOS, Facebook says. It will give the public at large their first proper taste of VR video, as well as content creators the opportunity to show off their talents just before the full VR experiences become available to consumers.
Images courtesy of Facebook