Apple isn't doing too badly with iOS adoption rates: As it releases iOS 9 to the world today, the company also posted a graphic on its App Store support page showing iOS 8 installations have reached 87% of devices. iOS 7 made up 11%, with older software accounting for 2%.
As Apple is always keen to highlight, it's one of the key differentiators between iOS and Android: The latest version of Google's mobile OS, Lollipop 5.0, is present and correct on some 22% of devices according to the company's latest figures. A further 39.2% of gadgets are running Android 4.4 KitKat.
See also: Here's What's New In iOS 9
That's encouraging for iOS developers and a headache for those working on Android. Of course, Google doesn't have the same control over OS releases or, of course, hardware as Apple enjoys—Samsung, Sony, LG and HTC all want to make their own tweaks to the software before pushing it out.
As strong as iOS 8 adoption has been, iOS 9 could do even better. First of all, the download weighs in at just 1GB, a relief for anyone who struggled to make enough space for the massive 5GB of room its predecessor took up. Second, every device that runs iOS 8 will also run iOS 9—from the second-generation iPad to the brand new iPhone 6S.
That's a lot of potential customers who won't have to spend time deleting music and photos just to get the update. There's another reason why iOS users will want to upgrade too: security.
Airdrop Angst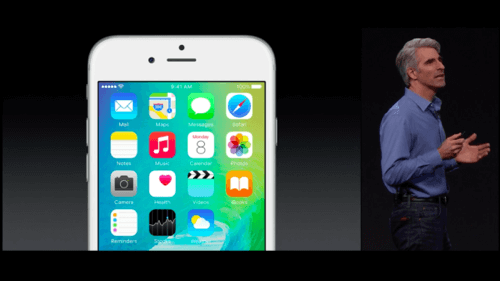 Just before iOS 9 hit the wider world, Australian security researcher Mark Dowd, of Azimuth Security, revealed a security hole in AirDrop that could enable malicious software to load onto an iPhone via Bluetooth.
The vulnerability allows anyone within range of an AirDrop signal to install unwanted apps and edit iOS settings, even if the file transfer is rejected. The bug is also present in Yosemite, but is squashed by iOS 9 and OS X 10.11 El Capitan. On older software the only effective way to stop it is to disable the AirDrop feature.
If you were thinking of waiting to upgrade to iOS 9 while the early teething problems are worked out, a serious security flaw is likely to be enough to convince you to take the plunge.
"[The malicious app] is restricted by its sandbox," Dowd explained to Forbes. "However since you sign the app, you can grant some entitlements that allow it to do things like read contacts, get location information, use the camera or whatever other entitlements legitimate apps can be allowed to have."
And that's before we get into all the new features in iOS 9: a smarter, more proactive Siri, better performance and battery life, a revamped News app and of course the split screen views now available on iPad devices.
With more urgent reasons to upgrade and fewer reasons not to, get ready for iOS 9 to break all adoption rate records. Your move, Google.
Images courtesy of Apple, screenshotted by ReadWrite