The battle for the mobile payment market can begin in earnest now: On Thursday, Google announced the official launch of Android Pay in the U.S. for later this month.
Similar to Apple Pay, Android Pay will allows users to pay for goods and services with a tap of their smartphone in stores—assuming that the device supports Near Field Communication (NFC) short-range wireless technology and runs Android 4.4 KitKat or above. (The terminal itself must also support Android Pay and NFC.)
However, the component of Android Pay of most interest to developers—the ability to make in-app purchases—is still missing. Google says the feature is coming "later this year" but isn't being any more specific than that.
See also: Take That, Apple! Samsung Unveils Its Own Pay-With-Your-Phone System
At this early stage in the transition to mobile payments, the finer details are less important than putting a marker down: Apple, Google and Samsung now all have something in place that they can build on. Apple Pay has had a year's head start over Google, though, launching back in October of last year. (Samsung Pay will hit the U.S. on September 28.)
Naturally, Google's list of supported banks is shorter than Apple's, though like the iPhone company, it promises to add new partners "all the time" as the service grows.
Android Pay will appear as an automatic upgrade for existing users of Google Wallet, which will live on as a person-to-person payments system (in the vein of Venmo). New users can download Android Pay in the coming days, and it will arrive pre-installed on upcoming handsets from AT&T, T-Mobile and Verizon.
Google Wallet's upgrade will come with tighter security as well, which is why bank support is required before a debit or credit card can be added. Android Pay uses "industry standard tokenization" to validate payments without transferring card details to the retailer.
Choose Your Payment Method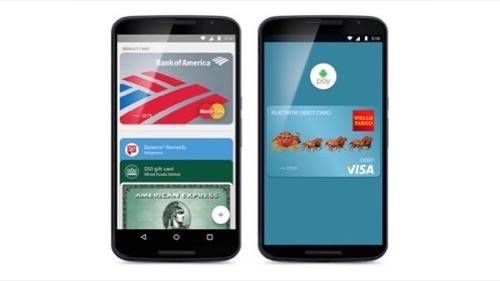 Once the roll-out of Android Pay, Samsung Pay and Apple Pay is complete, owners of both Android and iOS handsets will have a quick and easy way to make purchases in physical stores as well as the digital realm.
It's unlikely that any of these services alone will prompt users to switch from one platform to another. But its absence might make consumers think twice when their next upgrade is due.
Google and Apple already had payment systems set up for digital purchases, whether that was music downloads or bonus levels inside a game. Their respective payment systems build a real world layer on top of that.
Both Apple Pay and Google Pay use NFC technology to process payments, though Apple has the upper hand (or wrist) as far as wearables are concerned: The Apple Watch supports Apple Pay, whereas Android Pay isn't yet a feature in Android Wear.
Samsung Pay operates slightly differently, using Magnetic Secure Transmission (MST) technology rather than NFC, which makes it compatible with more terminals and older hardware. It's not intended for online and in-app purchases at the moment, however.
The banks supported at launch by Android Pay are American Express, Bank of America, Discover, Navy Federal Credit Union, PNC, Regions, USAA, and US Bank. Capital One, Citi and Wells Fargo are listed as "coming soon" on the official splash page.
U.S. users can make the most of Android Pay today at stores like Subway, McDonald's, Staples, Macy's, Foot Locker and dozens of others. Google says around a million outlets are up to speed with the necessary technology right now.
With its mobile payments system in place, the Mountain View company can now turn its attention to Android 6.0 Marshmallow.
Images courtesy of Google