In the guise of a new list of up-and-coming businesspeople, LinkedIn is testing a new format for profiles that emphasizes followers, not connections—and, like Twitter, makes the size of people's followings on the professional network plainly visible.
LinkedIn's Next Wave list takes the familiar form of business-magazine lists of upstart whippersnappers, featuring 150 LinkedIn members, all ages 35 or younger.
See also: LinkedIn Has Fundamentally Changed How You Interact With People
The professional network added data—such as profile views and news mentions tracked by LinkedIn's Newsle acquisition—to the editorial judgment of LinkedIn executive editor Dan Roth's team and the opinions of LinkedIn Influencers, the established business leaders who contribute essays on the site.
Follow The Leaders
The list is worth a read, with notables like Whitney Wolfe, the former VP of marketing and cofounder of Tinder who sued the dating-app maker for sexual harassment and is now running her own app company, Bumble. Also appearing there is Ruzwana Bashir, the CEO of Peek, a travel-experience-booking service.
Far more notable is the subtle makeover their profiles received last week, in advance of the list's publication. In place of the familiar "Connect" button, there's a Follow button. And the profile lists the number of followers in place of the number of connections.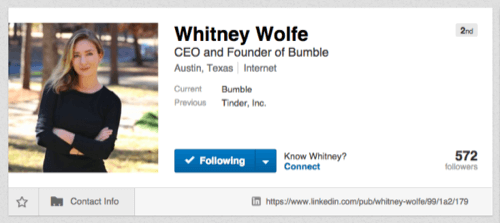 LinkedIn has long displayed a limited amount of information about people's connections, based on the theory that one shouldn't compete to bolster the number. Once you hit 500, that's it.
See also: LinkedIn Has Fundamentally Changed The Way You Interact With People
The 500-person limit has become an object of fascination for LinkedIn members. In his recent epic-length essay for Bloomberg Businessweek, "What Is Code?", Paul Ford describes a change-fomenting "man in the taupe blazer":
This man makes a third less than you, and his education ended with a B.S. from a large, perfectly fine state university. But he has 500+ connections on LinkedIn. That plus sign after the "500" bothers you. How many more than 500 people does he know? Five? Five thousand?
Rejoice, those who have asked this question. As I reported last year, since July 2014 there's been a way to see, roughly, how many connections a person has. All LinkedIn members have, tucked away on a secondary screen, a Follow button and an exact count of the number of followers they have.
The Next Wave 150 are joining LinkedIn's Influencers, the group of roughly 500 big names in business, in having a Follow button on their profile.
"It's something we want to extend to that group," Roth said. "Follow is an incredibly important function for LinkedIn."
There's a practical reason for this, Roth told me: LinkedIn wants to give people an action to take if they find these people interesting—and it doesn't want them to be inundated with connection requests from people they don't actually know.
All Buttoned Up
So that raises the question: Why doesn't everyone have an easily found Follow button already? My best guess is that LinkedIn is taking a conservative approach to foisting a big change in behavior on its more than 380 million members.
Besides Influencers, since last summer, you've been able to follow people who use LinkedIn's publishing platform, though you've had to do so by seeing a Follow button on one of their posts, not their profiles.
The two initiatives aren't connected: While some Next Wave list members do publish posts on LinkedIn, it wasn't a requirement for the list, Roth told me, and you'll be able to follow them to see any public updates they share on LinkedIn. (In theory, you could have done this with anyone as of last summer, but with the Follow button hidden away, there was little reason for people to try to attract followers with their public updates.)
The one spot where it's becoming easy to follow people is on mobile. In LinkedIn's core mobile app and its Pulse newsreading app, LinkedIn now emphasizes following people over connecting with them.
It's all part of a glacially slow transformation of LinkedIn's fundamental social model, from a Facebook-like, two-way connection to a Twitter-like system of so-called "asymmetric" relationships: You might follow people you don't know who don't follow you in return; you might mutually follow someone who follows you; or you might, in the old-fashioned way, still "connect" with colleagues or professional acquaintances—which counts, as LinkedIn transitions to this new system, as a mutual act of following.
Here's why this matters to you, whether or not you wear a taupe blazer: Well, for one, LinkedIn might run this list again in the future, and you'll want to score as high as you can to have a shot at it.
Far more likely, though, is that this list is a test run for LinkedIn's algorithms, and, just as LinkedIn rolled out access to its publishing platform step by step, I wouldn't be surprised if LinkedIn starts rolling out Follow buttons first to thousands of its users, then to millions. You, too, may be getting a Follow button soon.
So Next Wave personalities aren't just worth observing for their business accomplishments. They may well be part of an experiment in teaching LinkedIn users a whole new way to interact with each other.
Lead photo courtesy of Shutterstock