The wearables market might be on the rise, but Android Wear doesn't seem to be driving the growth. Estimates suggest a mere 720,000 Google-powered watches were sold in 2014, whereas the Apple Watch has reportedly shifted 3.6 million units in the past three months.
So where next for Android Wear? Today we got the answer: iOS.
"Now, Android Wear watches work with iPhones," writes Google's David Singleton on the official Google blog. "Android Wear for iOS is rolling out today. Just pair your iPhone (iPhone 5, 5c, 5s, 6, or 6 Plus running iOS 8.2+) with an Android Wear watch to bring simple and helpful information right to your wrist."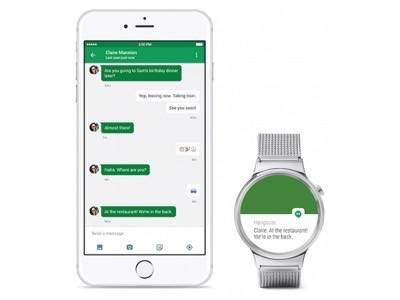 That "simple and helpful information" includes at-a-glance notifications, fitness feedback, and smart help powered by Google Now (available through the Google app for iOS).
Backward-compatibility isn't available, though: The LG Watch Urbane is currently the only Android Wear watch to support Android Wear for iOS. Google says all future models—including offerings from Huawei, Asus, and Motorola—will work with Apple products.
Google And Apple: Quite The Pair
This isn't a hugely surprising move from Google: It already has a bunch of iOS apps, after all, and its Chromecast TV-streaming stick works with iPhones and iPads with a minimum of fuss. Google wants users on its services, not necessarily its hardware, and living a Google-dominated life is almost as easy on iOS as it is on Android at this point.
It's also a development that was widely predicted to be in the pipeline. We wanted it to happen; an enterprising hacker actually made it happen on a Moto 360; and now it's all official.
There had been speculation that Apple might block such a move, but the Pebble is iOS-compatible and the iPhone supports dozens of fitness trackers and other wearables. While Apple kit may work best in tandem with other Apple kit, the Cupertino company isn't quite ready to completely wall itself in—hence iTunes and iPhone support on Windows, and now Android Wear compatibility with iOS.
It's not certain yet how Google's move is going to play out. Android Wear now has a bigger potential audience, while iPhone users have a bigger choice of smartwatches to pick from. It's possible that Google could sell more watches and Apple could sell more phones as a result of Android Wear for iOS, so it's perhaps a win-win all round.
It seems unlikely that iOS support is suddenly going to kickstart Android Wear sales to any great degree, but it can't do any harm. The new app also leaves the Apple Watch as the only smartwatch that doesn't work with both Android and iOS—a situation that's unlikely to lead to any loss of sleep for executives at Apple headquarters.
For now, the relatively small number of people who feel they do need a smartwatch in their lives are most probably going to stick with the same platform as the one that powers their smartphone. The hardware and software experience of Android Wear is going to have to become pretty compelling from here on in to tempt iPhone users away from Apple's own wearable.
Images courtesy of Google