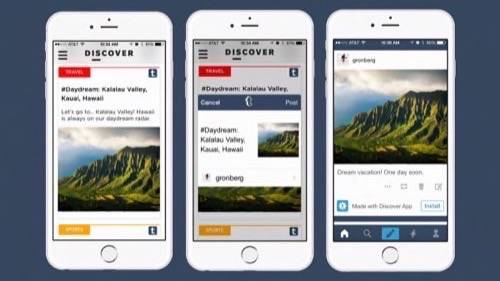 At the Yahoo Mobile Developer Conference in New York Wednesday, the company announced the arrival of in-app sharing. The new framework aims to make it easier to share photos, videos, links and other media to Tumblr with one tap.
The update, integrated into the Flurry software development kit, follows reports earlier this year that Yahoo would focus more on its Tumblr social arm, which it acquired in 2013 for $1.1 billion. With this change, users will be able to send a photo, video, link or any type of content to Tumblr from whatever app they happen to be running at the time.
See also: Meet Yahoo's Play To Help App Developers Make Loads Of Money
Of course, it's up to developers to support the feature. The company has been courting app makers more heavily this year, and some of these current announcements look like natural extensions of those plans. Along with Tumblr in-app sharing, Yahoo also offers real-time analytics and native video ad integration, to help tempt developers into the fold.
How Tumblr's In-App Sharing Works
The idea is for users to "create anywhere, discover in Tumblr," said Yahoo's Simon Khalaf on stage. He noted that downloading and installing the Tumblr app will be a "seamless" part of the process, if required.
See also: Yahoo Has Apparently Decided It's Time To Really Cash In On Tumblr
Mobile photo editing and sharing tool PicsArt was announced as one of the first partners for in-app sharing on Tumblr.
"We are thrilled to be using Tumblr in-app sharing to allow our community to easily distribute their creative work made with PicsArt," said Kriegel. "Tumblr and PicsArt both attract creative people who love to make and share content. This integration will help users drive discovery through both communities."
Crucially, Tumblr is promoting the feature as a two-way street, where the originating platform gets a deep link or app link back in return.
In other words, if a Tumblr user takes an interest in the shared post, that person can follow the link back to the app from which it originated.
Sweetening The Deal For Devs
App developers using the Yahoo Mobile Developers Suite will also be able to see engagement numbers for Tumblr shares originating from their sites or apps (for reblogs, clicks, likes and so on).
Billing it as "real-time metrics," Yahoo further announced that it's offering app analytics that update automatically every 15 seconds for free, courtesy of Flurry Analytics. Developers of all sizes should be able to use the tool, whether they have a hundred, a thousand or a billion users.
And finally, the company once again courted developers with the promise of making money. Its most favored approach: Ads. Yahoo now offers native video ads for publishers, plugging them as additional monetization opportunities.
The announcements should bring more content and variety to Tumblr, while developers get more eyeballs and more traffic back to their app (at least in theory).
"We're excited to see more great original content flow into Tumblr," said Tumblr CEO David Karp at the event.
A Peek At Flurry's Mobile Numbers
Khalaf also shared a long succession of statistics and metrics about mobile device usage in the U.S. over the last 12 months.
See also: Yahoo Shuts Down Pipes, The First Service To Make APIs For Everyone
American consumers are now spending an average of 3 hours 40 minutes per day on their smartphones and tablets, a rise of 35 percent over the same quarter in 2014. Only 10 percent of that time is in the mobile browser compared with 14 percent the year before.
Social, messaging and entertainment apps (including YouTube) accounted for 51 percent of the time spent on mobile in the last quarter.
The major loser was gaming, which Khalaf chalked up to a lack of big name hits, plus a switch to paying to progress, rather than grinding through levels (and spending less time in games as a result). Watching others play games has also taken away some of the time actually playing games, he noted.
Images courtesy of Yahoo