After the official announcement in May and a short period of closed beta testing, Microsoft's Cortana digital assistant app has arrived on Android as a public beta—you need to jump through a couple of (easy) hoops to download it, and bugs should be expected. But essentially anyone is welcome to give it a try.
This is more than an experimental side project from Microsoft, it's a growing movement to get all of its apps everywhere it can: Skype and Office are two high-profile Microsoft properties that have been ported to the Web and non-Microsoft mobile platforms in recent months.
See also: It's Official: Microsoft's Cortana Is Coming To iOS And Android
That's a far cry from the walled-in "Windows-first" vision of the Steve Ballmer era. The company's flagship apps were then considered crown jewels that would keep users coming back to the platform, despite the growing competition. It's debatable whether that worked on the desktop, but it certainly had no effect on mobile—something incoming CEO Satya Nadella has obviously recognized.
The Cross-Platform Lineup
Cortana may be the most important cross-platform app of Microsoft's lineup. Google Now and Siri are becoming increasingly vital cogs in Android and iOS respectively, and although the major mobile operating systems borrow features from each other, virtual assistants have become one of the few ways of distinguishing between them.
Voice technology has also become a cornerstone in an array of other rising niches—including smart homes, smart TVs, wearables and connected cars, all of which work with mobile devices in some way. If our phones have become our hubs, then voice features let us access them and other devices more easily, humanizing the chore of managing the personal technology in our lives.
See also: Windows 10 Mobile Will Bring One-Handed Mode And Cortana Tweaks
It's no surprise that Microsoft zeroed in on Google. Android is, after all, the easier target, thanks to the extra integration hooks it offers third-party apps. Cortana is able to replace Google Now on the Home button shortcut, for example, and may have its sights set higher than that: Microsoft is also working on an Android launcher called Arrow to make users forget they're running Android at all.
To state the obvious, iOS is much more restrictive. Google Now exists as part of the Google app on Apple devices, but it's less comprehensive and capable than it is on Android, because it can't dig as deeply into the iPhone's operating system. Apple's garden walls remain high: It's not letting Siri out, but it's not giving anyone else much of a look in either.
"Hey, Cortana!"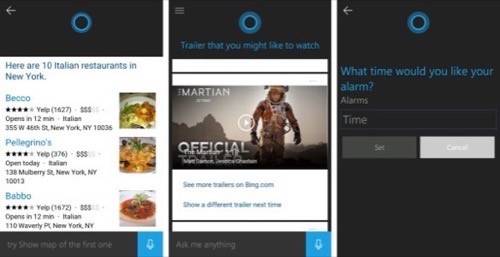 People without any experience of Windows Phone or Windows 10 may not understand exactly what Cortana does, but the app doesn't differ greatly from Google Now or Siri. Its aim is to know as much about you as possible, surfacing calendar events, reminders, news stories and weather forecasts as you need them.
As well as being a virtual personal assistant, Cortana also provides access to voice-controlled, neatly wrapped Web searches: Find out the President's birth date or the nearest Italian restaurant through a friendly little chat with Cortana. This will all be familiar to Siri and Google Now users too.
Cortana's expansion brings up the overarching issue of ecosystems—like Siri and Google Now, it works best with access to your emails, your calendar, and your daily movements. It's another reason why iOS and Android users are better off having Outlook, Skype, Sunrise and the like running directly on their devices, rather than seeing them wave from the distant shoreline of a Windows 10 device.
But the matter of tech giants extending their software to other ecosystems can be a tricky affair. Apple, Google and Microsoft all offer some leeway to rival virtual assistants to varying degrees, but how long that will continue or how deep the allowable integrations can go will likely remain complicated. For instance, access to a platform's core feature—say, by uttering "play music!" at your phone—will probably remain exclusive to the company's proprietary voice tech, namely Siri on iOS, Google Now on Android, and Microsoft's Cortana on Windows 10 devices.
On Windows and Windows Phone, Cortana can control settings (like Bluetooth and Wi-Fi), but Android users won't be able to do the same, nor can they launch any apps they please, or use the "Hey Cortana!" voice shortcut.
Still, for Microsoft, its Cortana outreach is akin to casting a wide net into an ocean of mobile users. The more places Cortana can be found, the better its chances of success—which puts the spotlight somewhat on iOS as the next destination.
The Cortana public beta program is open now to Android users in the U.S. Microsoft says it's planning to roll it out to other markets, but there's no timeline for that yet.
To try it out, start by clicking here to sign up as a beta tester, and download the app from Google Play here. At some point, you'll get an app update with the beta version.
Images courtesy of Microsoft