The latest Web app out of Mountain View, Calif. wants to tempt people to go green by showing them how much money they could save with solar energy. Google's new Project Sunroof draws from aerial imagery from Google Maps and Google Earth, along with the angle of the sun, surrounding shade and even local weather conditions.
Google describes Project Sunroof as a "treasure map of solar energy": Type in your address to see how much sunlight hits that spot per year, and you get a heat map along with information on the amount you could potentially save. (Input your usual electric bill for a more precise figure.) Ready to dive in? The online tool can also give you resources to connect with a local solar panel installation firm.
See also: Why We Need Battery Innovation—Now
According to JWT Intelligence, eco-friendly initiatives and practices are a hot business trend this year [.PDF], and many "green" startups have already hit the scene or plan to soon. Although it's not clear whether the company will give other parties access to the data, companies in this sector would do well to keep an eye on the project for developments.
Opening The Sunroof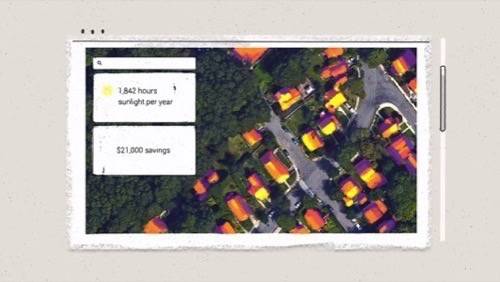 In the official blog post announcement, Google's Carl Elkin explains how he came up with the idea: "As a volunteer with the Boston-based solar program Solarize Massachusetts and a solar homeowner myself, I've always been surprised at how many people I encounter who think that 'my roof isn't sunny enough for solar,' or 'solar is just too expensive'," he wrote. "Certainly many of them are missing out on a chance to save money and be green."
Elkin dreamed up Project Sunroof as part of his "20 percent time" at Google, an allotted chunk of work hours that employees can devote to side projects.
See also: Tesla Might Be Getting Into The Home-Battery Business—Or Something Else Entirely
It's the sort of problem that Google is perfectly positioned to solve: Tapping into vast databases to pull out useful information in a friendly format.
Right now the searchable database only covers the San Francisco Bay Area and Fresno in Calif. and the Greater Boston area, but its inventors say the project will roll out to the rest of the United States "pretty soon." Given Google's search prowess, it seems natural for the company to add it to results, whenever someone searches "is it worth installing a solar panel on a house in Fresno?"
Project Sunroof also ties in nicely with Google's (or is that Alphabet's?) commitment to green energy sources: Many of its data centers use renewable energy and the company has also invested in Africa's largest solar plant.
Google has a track record for making tools and information available, so others can build on them. If Google opens the gates for more Sunroof resources—just as it makes its search-trends data available and distributes Maps and Earth APIs for third-party developers—then the tech giant could wind up adding fuel to the business of alternative energy.
Images courtesy of Google