We know that virtual reality has big potential for filmmakers, and more professional rigs are becoming available to help them make polished VR movies. Now, Sphericam aims to give enthusiasts, hobbyists and other dabblers the same opportunity with a new 360-degree camera that, the startup promises, is easier to use and costs less.
See also: Google Jump Will Revolutionize Making Virtual-Reality Experiences
Looking a bit like a multi-faceted Dungeons and Dragons die, the Sphericam 2 hit Kickstarter a couple of weeks ago, and has already blasted its $150,000 goal. Currently, the campaign (which ends July 30) has sold out of its $1,300 tier, making $1,400 now the minimum pledge to receive the device.
That's not a super-low budget cost, but it's still thousands less than, say, Google's attempt to court budding VR makers. At Google I/O, the tech giant unveiled its new Jump rig and open source software, which require 16 GoPros at $300 to $400 each, for a total cost landing around $5,000 to $6,000.
Price is only half the story. The startup's first attempt in 2012, the Sphericam 1, was a much bulkier and more cumbersome unit. Comparing the two devices shows just how far the technology has progressed in three years. For the committed amateur, the improvements and cost of entry offer an intriguing and more accessible way into the technology.
Rolling The Die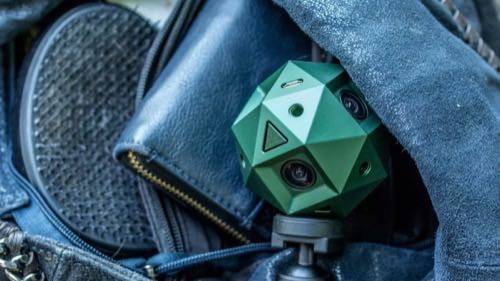 It's not easy to make decent-looking VR video. Often, blind spots, uneven stitching of footage and variations from different white balance levels can plague projects, reads Sphericam's Kickstarter page.
The campaign outlines the frustrations of dealing with those problems:
There just aren't many people who want to go through the months of training required to operate six sports cameras stuck together, and the tremendous amount of tricky post-processing that is needed to make such footage watchable.
Google's Jump platform wants to take the sting out of that lining up all those GoPros and assembling all their footage.
Spherical's approach differs, starting with the hardware: The anodised aluminium-clad device includes embedded six cameras and a selection of mounting options. (Thanks to Wi-Fi support, you can use a smartphone to set viewpoints and change recording settings without laying hands on the unit.)
The setup stitches the footage together in real time, so it's essentially ready to go straight away—no extra editing required.
The Spherical 2 offers 100% spherical video capture from all sides at a 4K, 60fps resolution. Finished footage can be viewed through a VR headset like the Oculus Rift or Google Cardboard, in 2D on mobile devices or desktops, thanks to YouTube's new 360-degree video support.
See also: How Jaunt's New Neo Camera Gives VR Filmmaking A Boost
Jeffrey Martin, Sphericam's creator, told ReadWrite that he's seen "a huge sigh of relief" from video makers. "Many people are tired of bolting together action cameras and going through an incredibly convoluted process of shooting and post production to achieve acceptable results," he said. "Many more people don't even want to try this route because it is so expensive and difficult."
Not Just For Amateurs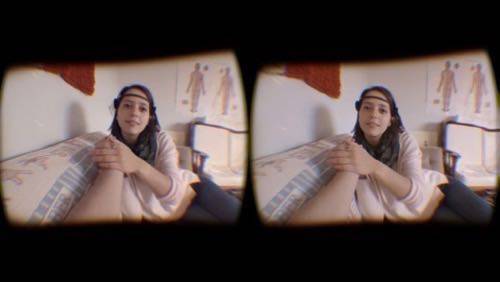 Filmmaker Elli Raynai agrees with Martin. Having had to create his own bespoke rig to shoot a short VR film titled I Am You, Raynai sees the the Sphericam 2's smooth workflow being just as exciting as the device itself.
The camera might be aimed at amateurs, but he feels such devices could help more serious filmmaking pursuits too.
"Any camera that makes the 360 stitching process easier is a very beneficial tool for filmmakers, as stitching is a very difficult process to get perfect," he said. "This coupled with sixty frames per second and 4K resolution recording makes this an ideal candidate for VR 360 filmmaking."
To complete I Am You, Raynai had to enlist the help of programmer partner Alexander Kondratskiy. (He wrote a plug-in for the Unity gaming engine to support VR feedback.) Recruiting coding expertise may not be an option for everyone. But while barriers still exist in both hardware and software, they seem to be coming down faster.
Raynai says there are fewer limitations in the way of VR filmmakers now. Directing a viewer's point of view has been one potential problem, and dealing with the camera's field of vision can be another. Those obstacles haven't totally disappeared yet, but they're not insurmountable. With products like Spherical's device, it's probably just a matter of time.
"I think over the next couple years we are going to see more and more indies trying to make films in VR," says Raynai. "My film has been met with great enthusiasm by both the general public and other filmmakers who are curious about [it]. VR filmmaking will never replace regular filmmaking, but will be another medium to tell stories on."
The Real Goal For This Virtual Camera
Martin attributes Spherical's current crowdfunding success to "pent-up demand" for an affordable VR camera. But, he's also aware of some skepticism because of the project's origins on Kickstarter.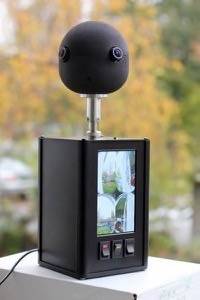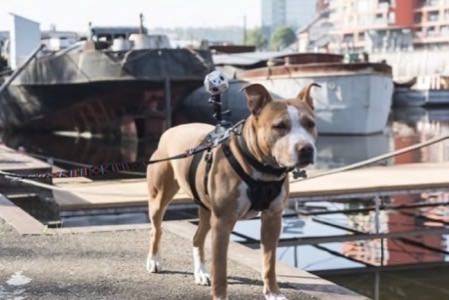 Older campaigns for 360-degree cameras that launched in previous years, but still haven't shipped, "have hurt us," Martin said. "We've gotten a ton of comments along the lines of 'Well I'd love to get Sphericam, but I already backed those two other, and I haven't gotten them yet, so I need to wait, or my wife will kill me!'"
New uses for immersive video could outweigh those concerns: For instance, one doctor wants to use Sphericam 2 to document cancer treatment in virtual reality, so that newly diagnosed patients can know what to expect.
Scenarios like that and others may have fueled Spherical's campaign. Now that it has surpassed its original goal, the company wants to offer new incentives—including more colors (if it reaches $250,000) and a splashproof housing for the unit (at $360,000). If the funds reach a total of $750,000, the Sphericam 2 will get a USB Type-C port.
The longer term goal is a bit less quantifiable. Martin hopes his Sphericam 2 will lead to more VR content creators stepping into the space.
"[VR] adoption has gone more slowly due to a lack of content. We really want to fill that hole," he said. "I hope our camera lets a lot of new people explore and create new art for this medium."
Images courtesy of Sphericam and Cinehackers.