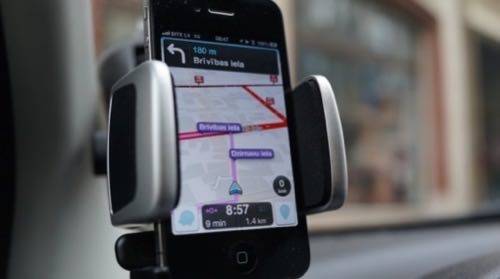 Google is reportedly jumping into the ride-sharing business. According to Haaretz, the search giant is launching a pilot carpooling service in three Israeli cities on top of Waze, its popular driving directions app. The service, RideWith, allows passengers to join fellow residents on their commutes. Google is expected to take a small 15% fee.
Google is careful not to bill it as a competitor to Uber, which has run afoul of protesters in places like France and South Africa, not to mention major American cities. Unlike Uber, Google limits trips to two per day, so drivers don't make a living off of the RideWith service.
See also: Uber Makes Nice With Cities, Offering Them Ride Data For Traffic Planning
The immediate goal, according to Haaretz, is to scale carpooling by allowing riders and drivers to efficiently match their trips. Riders get a cheap trip, drivers make a bit of cash—at least enough to cover their expenses—and roads free up and become less congested, without thoroughly cannibalizing the professional driving industry (at least at first).
We will, of course, know more about RideWith's relative success once the pilot service has been on the streets for a little while. But in the meantime, Google's approach still offers a few lessons for other would-be service providers and app makers—which is, essentially, a little foresight goes a long way.
Forget Fire-And-Forget
Often enough, tech companies just build and release, letting the chips fall where they may. This fire-and-forget approach has its merits, as it can fast-track technologies to market.
But the tech community is prone to coming off like a bull in a china shop, eagerly launching without fully understanding the environment in which those apps, services or products enter. All too often, those offerings wind up meeting a public that just doesn't find them as fantastic as their creators do.
The tech giant learned this lesson with Google Glass, for instance. Initially hyped three years ago as the fantasy gadget of technophiles, developers and maybe skydivers, the device experienced a deep backlash that made privacy advocates bristle and made "Glassholes" out of early adopters. The company needs more finesse, if it hopes to turn its next version into a success. It will certainly require that and more, as it ventures deeper into things like smart homes and driverless cars, among many other projects.
See also: Google's Offering Smarter Tools For Smarter Apps And Homes
On the surface, the company's approach to RideWith seems like a good start. Instead of hurtling the project headlong into a dicey situation, Google showed some (perhaps uncharacteristic) care this time, positioning it differently than the embattled Uber and tweaking the service enough to actually support that distinction. That may just give it a fighting chance of avoiding some of the complications plaguing others in the so-called "sharing economy," from Uber to Airbnb.
Companies that have some foresight, and the willingness to address concerns from the get-go, may stand to reap the most reward. In this case, that approach may even benefit more than just Google in the long run.
There Could Be More At Stake Than Just Your App
If RideWith catches on, it could speed up the advancement toward universal carpooling, where most trips are shared with a fellow resident. When it comes to transformative change that can affect a whole city, that's no small matter.
A few academic studies have found that if technology could efficiently allow carpooling, roads would be much less congested and reduce commute times. MIT found that in New York City, 95% of all taxi trips could be shared. Universal carpooling would dramatically cut congestion, commute times, dependence on oil and environmental impact. Ultimately, better carpooling could reduce trip times by 30%.
For now, Google is just piloting its ride-sharing concept, but the eventual ramifications could be profound.
Had the company not carefully considered RideWith's finer points, the service might have flopped before it even got underway. That's the conundrum for many businesses, both big and small. Sharing services—whether for rides, whole cars, houses or other resources—looks like a gravy train, with major tech companies running alongside startups to hop on board and cash in, before it gets overrun or loses momentum. In that rush, there doesn't seem to be much time to focus on the details.
But those details matter, especially for services that have as great a capacity to hobble other industries and create citywide unrest, as they do to create lasting, beneficial change. Paying attention to those nuances, particularly in cultures abroad, will become increasingly important.
Members of the sharing economy tend toward idealism, which can be exciting. But they need to balance that with some careful consideration of a few practical realities—not just of what they're building, but also the impact their work could have, both good and bad. That's how businesses and developers can create long-term success—and, sometimes, lasting change that affects people on a large scale.
For more stories, subscribe to the Ferenstein Wire newsletter here.
Photo by Kārlis Dambrāns