At the vanguard of the coming virtual reality revolution, we know that movies won't be far behind games. But movie makers need tools. To help the cause, Jaunt just unveiled one of the most powerful yet: The Neo VR camera, built from the ground up as a bespoke 360-degree camera.
Neo can't be bought, though—only rented. But that may be just fine. Capturing immersive video can be a very expensive proposition. And it's harder than it looks—recording times from the multiple camera units must be precisely in sync, and that's before you get to the problem of stitching all these different perspectives into one cohesive whole that can be viewed inside a virtual reality headset.
If the emerging VR industry hopes to extend its reach beyond gaming—and it does—then making sure creative types can wrap their heads (and hands) around virtual-reality filmmaking will be crucial.
Jaunt has some expertise in this area. The Neo is actually the company's fifth iteration of its flagship VR camera. But it may be just the beginning of an oncoming wave of VR-specific tools rushing in to equip virtual reality movie makers.
Filmmakers, Immerse Yourselves In This
This year alone, Samsung, Google, HTC and Oculus have all attempted to spur the creation of immersive videos in various ways. Meanwhile, groups like Google's YouTube division and the non-profit Mozilla organization want to make sure those works reach as many eyeballs as possible.
The advanced amateur (or "prosumer") enthusiast has a way in with Google's new open-source VR platform, Jump, and its huddle of GoPros. Now professional filmmakers have a fancy new option with Jaunt's latest.
See also: Google Jump Will Revolutionize Making Virtual-Reality Experiences
Neo is the company's first camera product built from scratch with custom-made parts, rather than off-the-shelf components, and by next year, Jaunt promises about 100 units will be available for rent.
Like Google's Jump array, Neo packs in several high-resolution cameras to capture multiple perspectives from one physical point (which makes for the viewer's point of view in a VR setting). But the unit is studded with sensors from top to bottom, allowing for a full 360-degree viewing experience. The end result: Viewers can peer in any direction—not just from side to side or around back, but also up and down—with professional quality.
The device, compatible with industry-standard software from the likes of Avid and Adobe, also features custom optics specifically designed to appeal to high-end filmmakers. These include 3D light-field capture, large format sensors with superior low-light performance and high dynamic range (HDR) imaging capabilities.
That low-light performance is crucial: As far as VR is concerned, filming an indoor scene with a lighting rig can pose real complications on a shoot. Traditional production crews only need to worry about a standard camera's limited front range. But where exactly do you put the lights in a 360-degree, immersive scene, so it won't show up in the shot?
Content Meets Consumers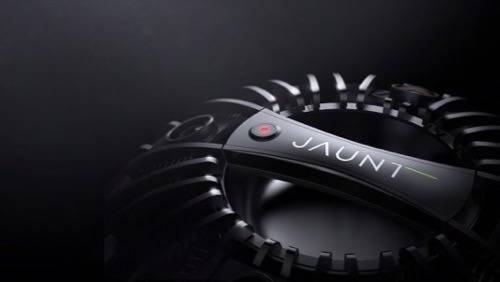 When it comes to capture tools built specifically with VR in mind, Jaunt may have a headstart, but it's not entirely alone. Others—like Samsung's Project Beyond—have started focusing on this area as well.
But the equipment is only part of the equation. Creativity is the other. To inspire people and show storytellers what can be done with VR, Samsung produced its own VR video and signed professional filmmakers and showrunners to create works for Gear VR users. Likewise, Jaunt has been busy making content too, ready to be downloaded and viewed on Google Cardboard or the Oculus Rift.
See also: Samsung Is Getting Serious About Producing Its Own Virtual-Reality Videos
More videos are slowly, but surely appearing, as portals like Littlstar and YouTube #360Video suggest. Jaunt's Neo and other initiatives clearly want to speed things along, so it's giving filmmakers what they need—from tools to inspiration to online venues that can show off their work.
Only when both the hardware and content snap into place will consumers start arriving in serious numbers. In the meantime, look for tech companies to continue making technical advancements and courting VR video creators in equal measure. They want and need those eyes fixed on the right direction: telling compelling and immersive visual stories that draw in audiences—and help launch a budding industry.
Images courtesy of Jaunt