The Internet of Things (IoT) is a goldmine waiting to happen, says a new report from management consulting firm McKinsey & Co.. However, according to its findings, we may be waiting a long time.
The tech industry seems to have reached full lather over this trend, with companies big and small rushing in to connect all manner of gadgets, home appliances, even cars and other technologies, to the each other and the Internet.
The reason is obvious: McKinsey points to $4 trillion to $11 trillion of positive economic impact each year by 2025. But its report also highlights roadblocks that stubbornly refuse to go away. Increasingly, the world is going to need to turn to open source to get the standards "unstuck."
The Slices In The $11 Trillion Pie
Not all industries are created equal when it comes to IoT's disruptive force. McKinsey has highlighted a few areas where the trend could have the biggest financial impact.
While smart homes may be the consumer face of this movement, the broader potential lies in other areas—like manufacturing, connected cities, healthcare and retail.
The findings unsurprisingly tracks closely to how McKinsey sees big data influencing various industries in a separate report: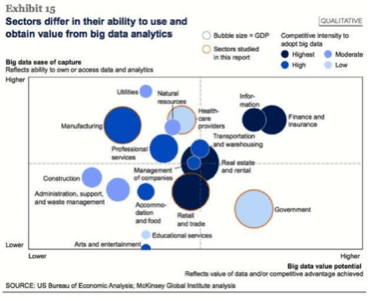 Apparently some of the biggest opportunities for data—specifically, IoT data—to change the world won't be found in Silicon Valley. Instead they'll be found in croplands, factories, and other supposedly low-tech industries.
In other words, the older and more hidebound the industry, the greater the potential for IoT to up-end it.
What's Blocking The Future
Unfortunately, there are plenty of factors impeding this data-rich future. The problems range from the 400-plus competing IoT standards to lack of global Internet connectivity, and more.
McKinsey also offers a range of complicating factors. Topping the firm's list, rightly so, is the matter of varying standards which prevent many systems and devices from communicating with each other. The firm describes this incompatibility as the primary roadblock:
Interoperability between IoT systems is critical. Of the total potential economic value the IoT enables, interoperability is required for 40 percent on average and for nearly 60 percent in some settings.
The report goes on to suggest two fixes: "Adopting open standards is one way to accomplish interoperability. Interoperability can also be achieved by implementing systems or platforms that enable different IoT systems to communicate with one another."
Vendors largely control the 400-plus competing standards, but the battle for developer hearts won't be won by a corporate logo-laden home page. Open source, however, could help, allowing developers to focus on interoperable code, rather than interoperable vendors.
Stop Hoarding Data—Use It
The other major problem with IoT efforts, which is endemic in big data generally, is that the vast majority of the information that companies cull never actually gets used to its fullest effect.
By McKinsey's estimates, just 1% of such data finds an actionable purpose—largely because tech makers use sensor data to capture anomalies in the system, not to optimize or advance their technology.
This may surprise anyone who believes that IoT begins and ends with the Apple Watch. But in that case, roughly 70% of its value will be captured in business-to-business scenarios—not from consumers nervously twitching at every buzz and chirp of their wearable device. In other words, there's more money to be made from optimizing connected irrigation systems, rather than your next work-out at the gym.
Regardless of environment, universal standards could buoy efforts across the board to increase the overall size of the market, while some strategic thinking about all that data could improve its utility. Otherwise, without some foresight, we could wind up falling back on Apple and Google to make it all happen.
Who Wins?
What seems increasingly evident is that Google may be the best positioned of the two tech giants to capitalize on the IoT opportunity.
See also: Google Is Readying Its Own OS For Running The Internet Of Things
Apple appears to be relying on its traditional strength of enticing consumers with new products or gadgets. In contrast, Google unveiled two new initiatives, its Brillo IoT operating system and its Weave communications protocol, which trod new ground by branching out into industrial applications, connected agriculture and remote infrastructure.
Given these moves, the market may not wait around for open-source standards to finally get everyone on the same command line. With as much as $11 trillion at stake, it could just take the fastest route and rely on Google (or Apple) to deliver IoT products.
Either way, customers will be the real winners. McKinsey estimates that, of the enormous potential IoT fortune, 90% of the value will go to customers, not vendors—though even a 10% sliver that $11 trillion pie would be plenty for a dominant player to feast on. At least it will be, whenever it is that the connected future arrives.
Image courtesy of Shutterstock.