This post first appeared on the Ferenstein Wire, a syndicated news service; it has been edited. For inquiries, please email author and publisher Gregory Ferenstein.
Just 3 minutes after the Supreme Court declared gay marriage legal nationwide, much of America shifted its attention to learn more. Google set up a series of gay-friendly "easter eggs" (or hidden features) in the search bar and on Youtube, which were ready to meet the flash horde of curious netizens.
See also: OK, Google: Search Inside My Apps!
Google recently updated its Google Trends tool for tracking worldwide search volume in real time, and today, the company showed off what it can do by illustrating — in fascinating simplicity — just how quickly news can capture the attention of an entire nation.
Google Trends can be extremely helpful for developers, marketing professionals and anyone else who needs to track the aggregate interests of the Internet, and the way they ebb and flow in response to newsy items.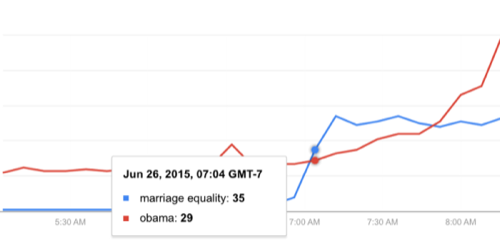 There's Insight In Them Thar Rankings
Google Trends reveals search volume in comparison to other terms.
A good gauge for a news topic's overall popularity is how it compares to "Obama," a search term that nearly always sits higher than others, but ranks lower than trending topics.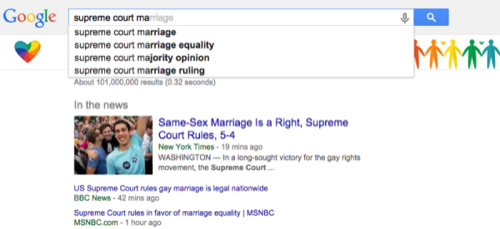 The Supreme Court decision hit Twitter at about 7:01, when the popular SCOTUS Blog announced the ruling. A mere 3 minutes later, "marriage equality" surged past "Obama" in search—but faded soon after, showing just how short the Internet's attention span can be, in aggregate.
Here's an interesting tangent: Had the news app Circa realized how swift the online public's curiosities shift, perhaps it would have rethought its approach. Letting users follow specific news topics can be handy at times, but as the primary feature distinguishing it from other news aggregation apps, the premise clearly wears pretty thin. As it was, Circa just couldn't stave off its demise.
Easter Eggs, And Equality, For All
Of course, Google took the opportunity to show its playful side as well.
The company greeted anyone searching for "gay" or "supreme court marriage" with a rainbow heart. On the page, they promoted a Youtube video (below) of people coming out the video network.
Google and other tech companies have a long history of celebrating gay rights on their front page (Google has even changed the search bar before).
But, today, Google upped its support significantly. And we can watch, in real time, how a powerful tech company gets political—while also conveniently allowing its online tool to strut its stuff.
*For more stories, subscribe to the Ferenstein Wire newsletter here.
Lead photo by Mrs. Gemstone