Amazon's attempts at making hardware have been laughably hit-or-miss, with flops like the Amazon Fire phone on one end of the range and the popular Amazon Fire TV stick on the other. Now Amazon aims to bend the curve with the Amazon Echo, its voice-driven smart speaker, which began taking preorders from the public on Tuesday for $180.
Echo may be ready to greet mainstream shoppers, but there's still one audience it hasn't connected with yet: developers. Amazon promised to let developers build apps for the device, but the Alexa AppKit, named after the device's trigger word, has remained stuck in the beta stage since February.
See also: Amazon's Echo Update Gives Alexa The Keys To Your House
In other words, developers can work with the pre-release software tools, but there's no guarantee when their apps will work with the final product consumers are ordering now. As a result, the Echo doesn't do nearly as much as it could.
Even if it's half-baked, the half that's ready has won some early critical raves, which is rare for an Amazon hardware product. Part of the reason: Echo is not a total loner. It does work with a few select partners, mostly in streaming audio, but notably, also with a couple of connected home products.
The latter may be the most intriguing aspect for tech makers still trying to figure out how best to incorporate voice. Amazon's surprise critical hit, which may offer the best voice experience to date, could jumpstart things—that is, once a final release reaches developers.
The Big Deal About Another Gadget That Talks To You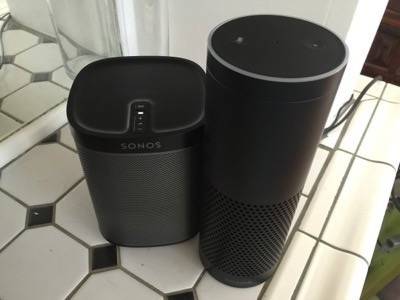 You could think of Echo, with its 9¼-inch cylinder casing and wrap-around speaker, as a mash-up of a Sonos connected speaker and Apple's Siri or Google Now. It may even be better.
Echo's key selling point is its uncanny ability to understand how real people talk. There's no stiff lexicon to memorize or wrap your mouth around. Plenty of services and software programs claim to understand natural language too, but few do it as well as Amazon's homegrown voice technology can.
You just speak to it like you're chatting with a pal, saying "Alexa" (to initiate listening) and then asking it to play music or give you information. I've found it really useful when my hands are busy, say with cooking, and I need to know how many ounces are in 1.25 cups. (The answer is 10 ounces.)
See also: Amazon Goes All Siri On Your Living Room
This is Amazon, so of course you can buy products by uttering just a few words. You can also launch news, weather, music, and even audiobooks, thanks to Amazon's in-house servics like Prime Music and Audible, as well as partners including Pandora, iHeartRadio, TuneIn, and AccuWeather. The microphone has a decent range, but if you're beyond it or it has trouble hearing you amid environmental noise, you can use the included mic-equipped remote control.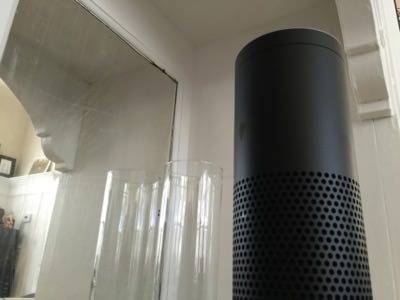 Echo doesn't always get it right. The unit did accidentally fire once—though to be fair, a So You Think You Can Dance candidate named Alexa understandably confused the device. Thankfully, that's easily remedied by changing the trigger word.
As a speaker, it sounds quite good, given its small size, though the sound deteriorates a bit at higher levels. In that way, it can't beat a Sonos speaker for audio. The variety of commands, features and information sources can't touch Siri or Google Now either. And yet, by marrying those qualities into a single easy-to-use device, one that understands your chatter even from across the room, it still feels like a major step forward in home technology. Once you start using Echo, you won't believe you ever looked things up manually with your fingers like a caveman. (No offense.)
That no-fuss proposition can't be underestimated—especially when you're talking about smartening up your house.
Smart Alex(a)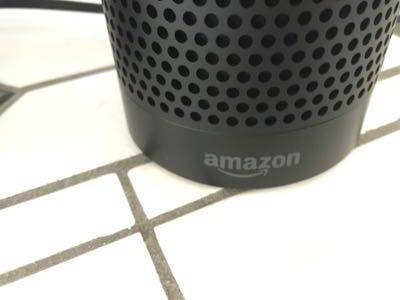 The device works with Philips Hue smart lightbulbs and Belkin WeMo devices. If you own one or both, the Amazon Echo mobile app makes it easy to add those products to its system. Once you've done that, you can trigger them by just talking to your speaker. There's no further need to reach for your phone or unlock it.
Thanks to this direct support, you can tell Echo to switch on your lights or turn on your (WeMo-connected) coffee maker, television or other appliances. This simplicity is its most promising trait. The device does not force users to launch apps in their own home or fiddle with other gadgets. You just talk, and the speaker obeys to control any supporting device—which is just the sort of quality that today's smart homes need.
The tradeoff to that simplicity: Right now, Echo only works with those two brands. For more, we'll have to wait for the Alexa AppKit to get publicly released.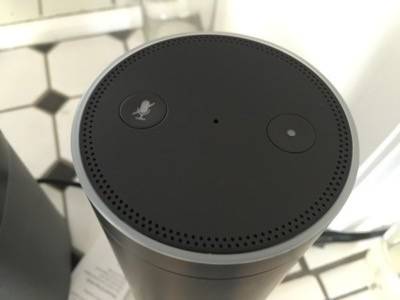 The beta version is available on a limited basis, just like the hardware was initially—that is, by invitation only. (You can apply here, or view the developer portal here.)
In the meantime, developers and users alike can take advantage of some workarounds, thanks to If This Then That, better known as IFTTT. The service offers an Amazon Echo channel with a variety of recipes tying the machine to services like Evernote, Gmail, even phone calls and other applications, including a few smart home features. Hopefully, that's only the beginning.
The Amazon Echo is available for preorders now, and ships July 14. As for when it will support other apps and products, Amazon wouldn't tell us. That's the only thing that's keeping this smart speaker from really finding its voice.
Photos by Adriana Lee for ReadWrite
Update June 25, 2015: Amazon announced new developer tools: the Alexa Skills Kit (ASK), to support new voice features for Echo, and the Alexa Voice Service (AVS), to bring Amazon's voice technology to third-party devices.
These tools, too, will only be available as developer previews for the time being, with no word on when the full release will be available. (ASK goes into developer preview today, and AVS follows next month.)
The company also introduced the Alexa Fund, its new campaign to promote these tools by investing $100 million pledge to developer support. Click the links for more information.