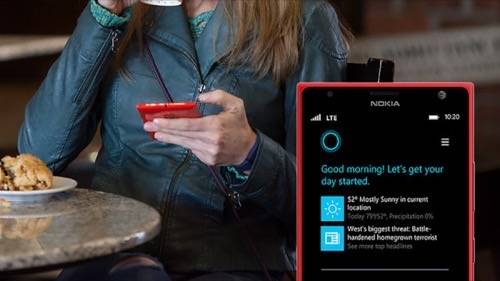 Microsoft has revealed more changes to its Windows 10 Mobile software, offering developers a chance to check them out—including a new one-handed mode, and some finishing touches for Cortana, Microsoft's voice assistant.
Talk Helpful To Me
Cortana seems to be growing up. Once a rather limited service for Microsoft-powered phones, the voice assistant is spreading its wings, landing on Windows 10 computers and Xbox One consoles.
See also: Want To Test Microsoft's Continuum? This May Be The Windows Phone You Need
According to Microsoft, the feature is "very close to our final design" and boasts a few finishing touches. These include flight and package tracking; the return of alerts "for going to work, going home and the airport"; and spoken responses when you ask about the weather, currency and stock quotes, among other things.
Cortana got a small makeover as well, with darker colors and other changes, so that it fits in better with the rest of Windows.
A One-Handed Complement
When it comes to phablets, those huge mashups of phone and tablet that stretch both pockets and the bounds of reason, the physical realities of handling an enormous handset has made one-handed modes a necessity. Microsoft's take—available on smartphones with displays of 5 inches or more—seems to riff on Apple's approach, The Next Web noted.
Just press and hold the Start button, and the software sends the whole window sliding down, so you can reach any inputs at the top. Do it again, or touch the blank area in the upper part of the screen, to return to normal mode. This isn't Windows 10 Mobile's first effort to help the single-pawed—the company already launched a one-handed keyboard (available by swiping sideways on the space bar).
Some Android users get a one-handed mode as well, though usually concocted by manufacturers, not Google. Samsung, for instance, shrinks the whole display on its large Galaxy phones down and side-situates it, so fingers can reach every part of the miniaturized screen.
The software update also includes some interface changes, as well as news font and icons, plus tweaks to improve its camera app.
Microsoft will release the new software for people signed up for the Windows Insider Program for mobile, the company writes: "We are only offering it to phones that are running Windows Phone 8.1 and opted in to the Windows Insider Fast ring."
There are specific instructions for upgrading, and the process is not very straightforward. In fact, it looks rather glitch-prone, as Microsoft acknowledges. It promises that these issues will be resolved for the next software build, but for now, if you don't follow the directions exactly, your device could "wind up in a funky state." Let that be a warning.
Make sure you check out the official Windows blog here for the full instructions.
Photo courtesy of Microsoft