Google Maps for Android just got an interesting new update: The app can warn you if your destination will be closed by the time you arrive. Android Police noticed the change, which relies in part on information from your Gmail account—like car reservation details, flights and hotel bookings—to provide the warnings.
The timing is tough to overlook. Apple also recently announced new features for its Maps app—in this case, to finally add public transit information with its next iPhone software, iOS 9. But while Apple may be playing catch up by finally including this long-awaited feature, Google seems focused on going beyond what users expect.
The update may be incremental, but it could point to the company's larger road-worthy ambitions. Consider a signpost signalling where Google really wants to go.
Helpful Assistant, Will Travel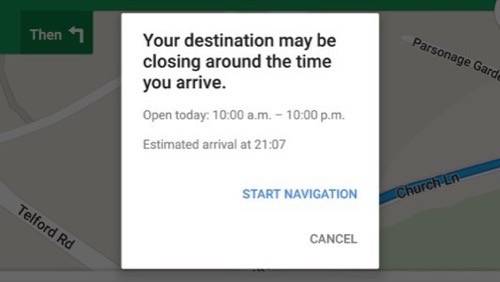 Apple and Google have a history of locking horns on the mapping front. In 2012, the iPhone maker yanked Google Maps from its handsets, replacing it with its own homegrown—and kind of buggy—application as the default. Eventually, Apple succumbed to user demand and allowed Google Maps back on the handset, albeit as an optional app download.
Apple CEO Tim Cook even issued "mea culpas" for Maps' lack of transit directions by diverting users to third-party apps, including Google's. His company will finally fill in that glaring hole soon, but meanwhile, rival Google's application keeps evolving.
Here's the gist: Imagine plotting a route to a restaurant that closes at 10pm. If it's 9:30, and it's going to take you 30 minutes or more to get there, then Google Maps displays an onscreen warning to let you know, with the message, "Your destination may be closed by the time you arrive." You can then choose to abandon the trip or push on regardless.
See also: Apple's Mapping Battle With Google Hits The Streets
While perhaps not big on sex appeal, the update seems long on helpfulness. It also works as a reminder that Google's never done developing its mapping product, as well as how much work Apple has to do to catch up.
Where Google Wants To Go
In the last 12 months alone, Google has rolled out numerous new mapping-related features: the ability to send directions to your phone from the desktop, lane guidance for 15 extra European countries, an option to share directions through other Android apps, tips about your destination and an Explore Nearby feature for discovering places of note in your vicinity. The app even offers virtual reality Street Views for Google Cardboard VR viewers.
See also: Street View Comes To Google Cardboard
Of course, many of those features only work if the app has accurate information to begin with, which is one reason Apple wants to reduce its reliance on third-party mapping data providers and control its own database.
Apple Maps has improved a lot since its launch as well. (At the very least, we're not hearing about driving directions to take a hard turn off a bridge recently.) Google's offering continues to demonstrate the benefits of 10 years of mapping experience, as well as its ability to mine your emails for bookings and travel data.
Before long, the maps battle could ramp up even further—especially with Apple and Google both trying to claim the driver's seat with their respective CarPlay and Android Auto initiatives. Maps will be a key foundation for these approaches, not to mention Google's other passion project, its driverless car—which could mean we're not done seeing Google Maps try its best to morph into full-fledged travel assistants.
To check out the new Google Maps feature, make sure you have the latest app update or download Maps v9.10 for Android from the Play Store.
Images courtesy of Google