Yet more evidence that Apple will release a larger, productivity-oriented version of the iPad: According to a tweet posted Monday morning, Irish developer Steve Troughton Smith offered visual proof that users will be able to resize the iPad's UIKeyboard (or on-screen keyboard) to a much larger degree than ever before.
The images, taken from iOS 9's early "beta" software, reveal keys to the left and right sides of the virtual QWERTY keyboard that don't exist in the current iPad.
Also new in iOS 9 – UIKeyboard seems to scale to a much larger heretofore unseen iPad screen size ? #ipadproconfirmed pic.twitter.com/Q9eN9CLCKQ

— Steve T-S (@stroughtonsmith) June 15, 2015
There wouldn't be much reason for Apple to give iOS 9 users a bigger keyboard without a device that could take advantage of it—like the highly anticipated, work-focused "iPad Pro." The much-rumored device is expected to come with a 12-inch display, which would be the company's largest tablet to date. (The current iPad Air 2 features a 9.7-inch screen.)
This joins a few details already confirmed by Apple, which showed off various forms of same-screen multi-tasking at its Worldwide Developers Conference last week—some of which is exclusive to only the iPad Air 2.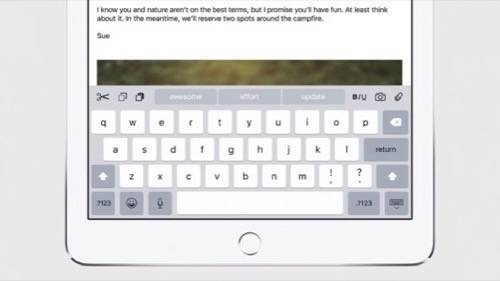 All signs seem to point to a big-screened iPad finally making its way to the public. With Apple's iPad announcement likely arriving this October, there's still plenty of time for even more clues to emerge. In the meantime, Smith's discovery could spur developers to start imagining how their apps may work on a larger screen.
Lead image and iOS 9 virtual keyboard image courtesy of Apple