In its bid to break into the mainstream, virtual reality tech company Oculus VR announced a brand-new wireless gesture-based controller, the Oculus Touch, at a press event Thursday in San Francisco.
See also: Oculus And Microsoft Team Up To Dominate Virtual-Reality Gaming
The new peripheral will go along with the forthcoming Rift VR headset, which opens for orders sometime early next year. Consider it the Facebook-owned company's attempt to tackle one of the most important issues for any emerging technology: How do you make something futuristic and esoteric—like an artificial, purely digital VR environment—easier, more natural and accessible for a broad audience?
Well, it's not by confusing people with tons of buttons.
Finger-Friendly Tech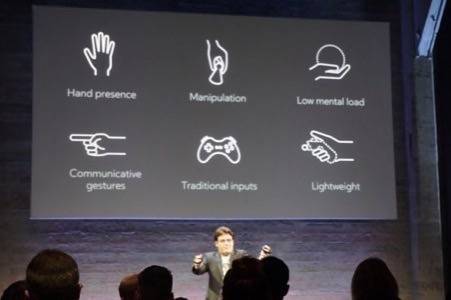 Nascent technologies like smart homes, wearable devices and other niches often hit a wall when it comes to consumer adoption. The reason stems from forehead-smacking simplicity: If it's too complicated to use, people won't use them.
For virtual reality, the fundamental matter is how users will interact in a VR game or environment. Without interactions, users have a passive experience, just sitting there while stuff goes by. (That can get old.) Until now, Oculus hadn't offered any solutions, making software development tricky.
The new Oculus Touch offers an interesting proposition. You just grab the units, and the system recognizes your hand and finger gestures.
Think of the handhelds as Oculus' (fancier) and more advanced version of Nintendo's Wii Remote. The device features (just a few) carefully placed buttons, haptic feedback (read: vibrations) and loads of sensors. Packed altogether in a single unit, the controllers allow you to pull triggers, pick up objects, and do plenty of other things inside a virtual environment.
You can even point and give a thumbs up. The system understands finger poses, the company claims.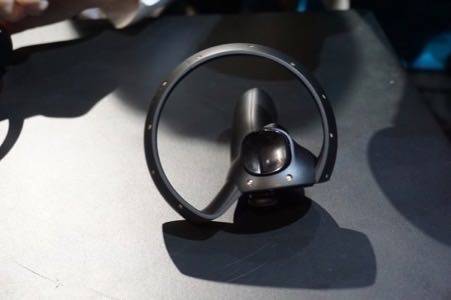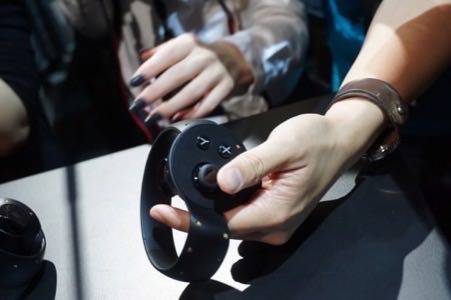 Not that Oculus Touch is the only input method. The company has a two-prong approach: In addition to the gesture-control unit, the company also announced that it will ship its Rift goggles next year bundled with the Xbox One's wireless controller.
Offering two options for controllers is nothing short of Oculus hedging its bets. The Xbox peripheral will make hardcore gamers feel at home, and it will keep game developers who based designs on them in the fold. But "a gamepad is a pretty complex input device," said Oculus founder Palmer Luckey in a chat with reporters following the press event. "It's something that [could put off] people who are non-gamers, if it was the only way they could interact."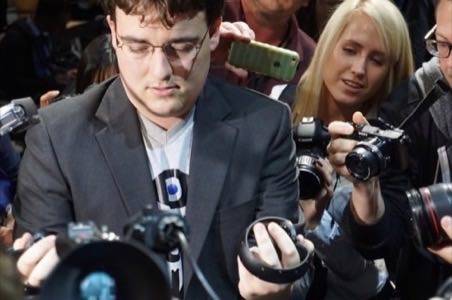 He's not wrong.
The Point? Doing Stuff In VR, Naturally
I used to be rather skeptical about virtual reality breaking into the mainstream, at least anytime soon. Then I met Valve and HTC's new Vive headset at Mobile World Congress, and it completely changed my mind. Part of the reason, apart from excellent graphics and tracking, were the handheld controllers. Even though they were ugly prototypes still tethered by cables (the final version will be wireless), it still allowed me to do things in VR in a way that felt natural.
See also: 6 Ways The HTC Vive Will Freak Out Virtual-Reality Geeks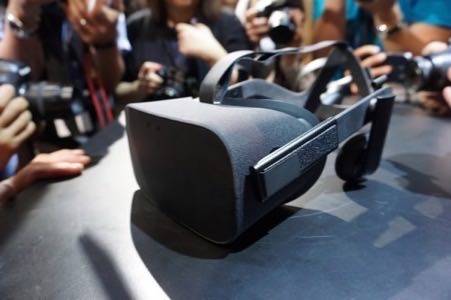 At this point, I've demo'ed three different VR setups—including Oculus' Crescent Bay prototype, the basis of its upcoming consumer-ready Rift—and the Vive offered the best experience so far. All that could change, though, depending on the finishing touches that could polish off the Rift between now and next year.
The press event revealed a few more things: The goggles will sport a sleeker look, integrated earbuds and native support in Windows 10. Hopefully, more detailed information will come out at E3 ("Electronic Entertainment Expo") in Los Angeles next week—including technical data, ship date and retail price.
Whatever the company announces next, it will have to be impressive. The launch for HTC's Vive, slated for later this year, slides in before the Rift's debut in 2016. Oculus will need to give people a reason to hold out. If the new Touch peripheral really does work as well as the company claims, that could be a great step.
Photos by Adriana Lee for ReadWrite