Start making space in your conference rooms, IT managers: Microsoft will open its monster Surface Hub for orders on July 1, with shipping in September.
See also: Holograms! Also, What Else Microsoft Announced At Its Windows 10 Event
Essentially an oversized, touch-friendly tablet, the device will come with huge prices to match, at $7,000 (55-inch model) and $19,000 (84-inch model). The device is targeted at companies in need of massive digital whiteboards for sharing presentations and documents, allowing team-based annotation, and piping video conferences.
Microsoft insists that its Surface Hub prices are affordable, and for some companies, maybe they are. Its blog post reads: "Surface Hub replaces a number of disparate tools and technologies, including the audio-video conferencing system, display, projector, wireless receiver, and the analog or digital whiteboard at a lower upfront cost."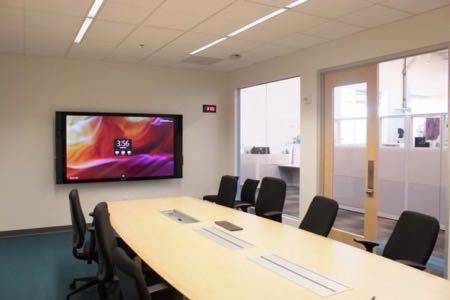 While a large workplace display or tablet isn't a new concept, it's still a decidedly different approach than, say, Google's Chromebox. A glorified Chrome browser stuffed into a square casing, the unit offers limited features and no peripherals at all—you bring your own keyboard, mouse and monitor. However, its sub-$200 pricing will likely draw much more interest from bootstrapping small businesses.
That may suit Microsoft just fine. It's clearly catering to a higher echelon of business customer that would consider $7,000 to $19,000 reasonable.
So-called "enterprise" technologies can be major potential profit centers for technology companies. Samsung and Apple, for instance, seem to view companies as saviors that can buoy other areas, like slumping mobile business. (Adding productivity features seems to be Apple's ethos for turning around waning iPad sales.)
Corporate use has always been Microsoft's sweet spot, however. While its mobile division works on its best attempts yet to catch up in the phone and tablet race, it has been and remains a behemoth when it comes to the desktop. Various versions of its computer operating system collectively still own the OS market, largely thanks to company adoption.
Microsoft took the wraps off Surface Hub earlier last January, at its Windows 10 event, where CEO Satya Nadella called it "enterprise TV."
Photos courtesy of Microsoft