By now, the notion of a work-optimized iPad Pro is a cliché, with rumors about Apple's not-quite-a-laptop having circulated for years. But with Monday's reveal of new features coming to iOS 9-powered Apple tablets, the long-awaited release of the iPad Pro finally seems more like inevitability than fantasy.
The company certainly wants to give its prized tablet a boost, considering the device's slumping sales. Apparently, Apple sees productivity features as just the thing to reinvigorate it.
See also: Here's What's New In iOS 9
At the company's Worldwide Developers Conference keynote address on Monday, Craig Federighi, senior vice president of software engineering, showed off new additions to the iPad's repertoire that seem specifically designed to help users get more done with the device. If that's the mentality going into the product category, it may be paving the way for a work-friendly tablet to finally hit the market before long.
Hard Evidence In Software
At its keynote, Apple highlighted its iPads by calling these times the "post-PC era"—despite the fact that the company still makes more from its computers than its tablets. But the company seems to want to sell its iPads as work devices, sending out a new wave of software changes to support that notion.
See also: Apple's iOS 9 Search API Is Huge For App Developers
The tablet's QuickType keyboard has a new Shortcut Bar that includes easy access to copying and pasting tools, while iOS 9 will also feature shortcut support on external keyboards. Previously, Apple has emphasized the iPad's status as a fun consumption machine. That it would point to keyboard support seems to indicate it has plans for a physical keyboard of its own.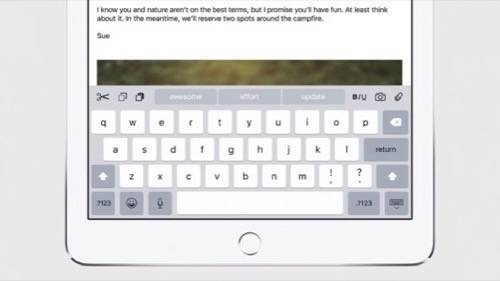 Apple also just announced mouse pointers for the iPad. Users just move two fingers along the virtual keyboard, and a cursor will appear, making text editing and selection much easier.
Most importantly, Apple unveiled new same screen multitasking features called Split View and Slide Over. Slide Over lets users swipe in from the side of the iPad screen to open up a new app while pushing an already-open app into the background. Both are viewable on the screen at the same time, but only one is usable. It's a nice addition that will hit all iOS 9 compatible iPads.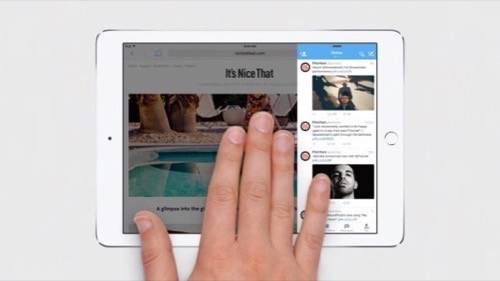 Split View, however, is the real star. It allows for two apps to be open and usable on the screen at the same time. It's not revolutionary as far as computers in general are concerned, but it's a first for the iPad. Tellingly, Split View is only available in the iPad Air 2. Likely, whatever new iPads we see in the fall of 2015 will also boast Split View.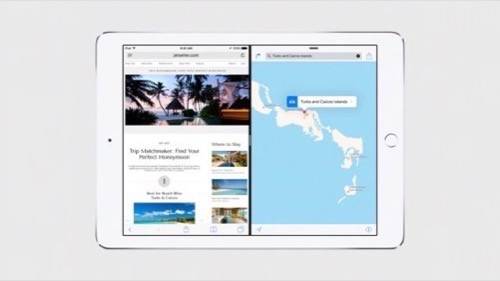 The changes seem to refocus the iPad for getting work done. Working on an iPad has been possible before, but it's never been particularly easy because of the tablet's previously simplistic interface.
A New Competitor Surfaces
New software isn't the only reason Apple may release an iPad Pro. In March, Microsoft revealed the Surface 3, a modestly-powered tablet that's priced against the iPad, and runs full Windows. It will be even more powerful with the ability to run universal Windows apps once Windows 10 drops in July.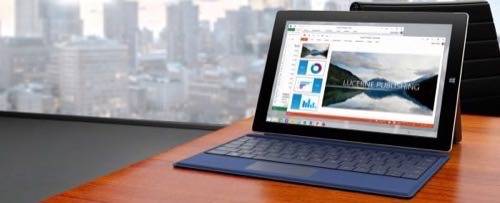 Windows 10 will also transform Microsoft's mobile devices into productivity powerhouses, as the forthcoming Continuum feature will adjust a device's UI (user interface) depending on the context. If you plug a phone running Windows 10 Mobile into a monitor with a keyboard and mouse, suddenly you've got a full Windows PC you can fit in your pocket.
Between Microsoft's transforming devices and the overwhelming number of cheap, functional Android devices out there, Apple must offer more practical options than its overpriced 2015 Macbook, if it hopes to appeal to the mobile workforce. A reasonably priced iPad Pro—with a bigger display, a keyboard, and more processing power and storage—would do nicely. Perhaps this fall.
Apple iPad images courtesy of Apple; Surface 3 image courtesy of Microsoft