On Monday, at Apple's Worldwide Developers Conference in San Francisco, the closed-off Apple Watch cracked open a little wider for developers, who will now get to build truly native apps that take full advantage of the wrist device's hardware features.
See also: Apple Just Threw Some Shade At Pebble And Watch App Developers
As the company noted, it has been six weeks since the wearable device's launch, and with Apple's Kevin Lynch taking the wraps off the new smartwatch operating system, known now as WatchOS, the device's software evolution appears to be racing forward.
Time To Go All In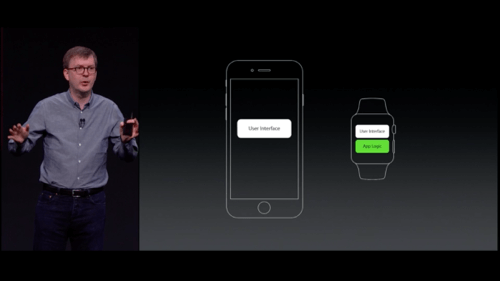 Until now, the Apple Watch offered what more or less amounted to a jazzed-up, extended interface for iPhone apps. Software primarily ran on a paired iPhone connected to the watch. With a fairly limited set of apps, it was hard for Apple to really make a convincing case for its new device. Even now, people still aren't quite sure what they're supposed to use it for, or how the pricey device can improve the way they do things.
With WatchOS 2, developers will be able to create apps that operate directly on the watch. Along with Wi-Fi support, the way has been paved for more independent features that may not require the iPhone's presence at all. That, and other improvements, opens up much more room for developers to come up with creative uses.
App makers will get access to the watch's microphone, to catch audio so they can pipe it into their apps, as well as its little speaker to play audio. The device can even play short videos, if need be.
Fitness apps also get access to sensors and HealthKit directly on the watch, which could give their apps a real boost, since they can collect presumably more accurate heart rate and other health or data.
They can also jack into the accelerometer, as well as the device's Taptic Engine—Apple's really fancy name for the watch's buzzer which sends vibrations down your arm. Those features could be useful for workouts, detecting when you've completed a move and alerting you to what's next.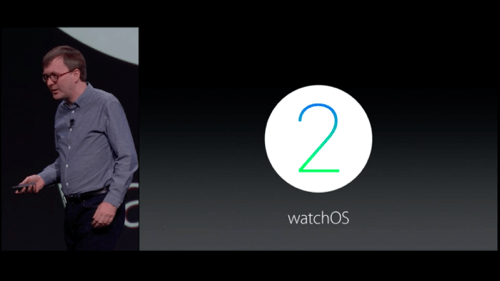 The most interesting change Apple has made is to the watch's display—and the way developers can access it.
Apple previously reserved "complications," a term borrowed from the watch industry which Apple uses to describe bits of information that float across the watch's surface. Now developers will be able to determine and offer their own complications.
Users will be able to navigate them with the Digital Crown dial, rolling through them to move forward chronologically.
That digital time-trip feature is called Time Travel, and its appearance is a bit of a surprise. According to a Wired story earlier this year, the company considered a chronological approach similar to Pebble Time, but then ditched the notion.
ReadWrite noted then:
In one section, the Wired story reveals that previous versions of the Apple Watch software took a chronological approach, setting information in a timeline. But the concept was tossed aside early on for Short Looks, which prioritizes info based on whether or not you engage with it, and Glances, which offer a unified place for fast news and updates.
Guess the company changed its mind.
Some other features:
New watch faces: Includes new Photo Album face and a new 24-hour Time-Lapse face.
New nightstand mode: If you don't wear your Watch to bed, then you'll be able to stash it on your bedside, where it can act as your alarm clock. The face will show an indicator for the remaining battery level and the time.
Digital Touch sketches in color: Now you're not stuck with just a hue or two for your caveman drawings, but you can get your micro Da Vinci on (that is, if you're a quick draw. Those sketches do fade away rather fast).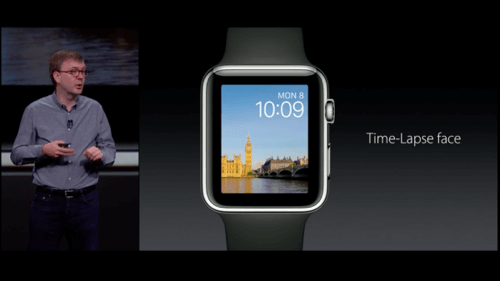 Other updates hitting our wrists soon:
Email replies
FaceTime Audio calls
iOS 9 updates: Includes Apple Pay support for gift and loyalty cards, Siri-powered Maps on the watch complete with transit directions
Native fitness apps with Siri: Users can start workouts by speaking to their wrists, no manual launching of apps necessary
Siri support for Glances, even those that aren't already installed
The free developer beta of WatchOS 2 is available today, with a wider software release coming later in the fall.
Screenshots by Brian P. Rubin for ReadWrite