Less than 48 hours after putting out a call to action to its supporters, Pebble has apparently convinced Apple to move its new smartwatch apps onto the App Store.
The smartwatch maker posted an update on its Kickstarter page for the Pebble Time on Friday to share the good news—and to thank its supporters for letting Apple know that they'd sure like to have access to Pebble's apps.
"It's thanks to you, the one-million-and-growing community of Pebble users, developers, and fans that Pebble Time Watch is on the App Store today," reads the update. "You carried this torch across the finish line."
Pebble's Problems
Pebble rallied its iOS-using fans when it looked like Apple was sitting on both of its smartwatch management apps. Without Apple's approval, the apps couldn't reach the App Store, which meant that Pebble's new smartwatch, the Pebble Time, would be all but useless.
Pebble went as far as recommending that iPhone users borrow a friend's Android phone to set up their Pebble with basic watchfaces and apps that didn't rely on a smartphone connection.
Neither Apple nor Pebble have responded to inquiries about the reasons for the delay.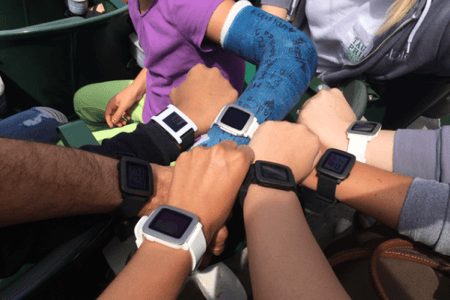 Now that the issue is cleared up—for the moment, anyway—Pebble was quick to show gratitude to Apple for taking care of Pebble-owning iPhoners:
"We thank Apple for honoring the people who love both their Pebble watches and Apple devices. Apple's attentiveness to the community means iOS Pebblers with iPhones can now enjoy both their Kickstarter rewards and Pebble's awesome iOS-compatible apps. We're glad to have Apple be a part of Pebble's journey then, now, and into the future."
This was not the first time Apple seems to have taken issue with Pebble and its developer community. Pebble app developers reported incidents of App Store approval delays or rejections in April and May. Pebble has characterized those episodes as "misunderstandings."
The latest delay, which hit Pebble's own app, raises questions. Will Pebble have to rally its community to pester Apple every time it updates its apps?
Or, if fault lay with Pebble and its app submission, say, because of some technical flaw which violated Apple's platform rules, who's to say another delay like this won't happen again soon? If that was the cause, though, it seems strange that Apple and Pebble wouldn't come out and say as much.
Until both companies open up about what led to these snags and give us real reason to believe they won't happen again, iPhone-using Pebble owners face an uncertain future.
Images courtesy of Pebble