There are a lot of important choices when buying a new car. "What color?" "Two doors or four?" "Manual or automatic?" "Sunroof?" Soon, "Android Auto or Carplay?" could be one of the common questions, at least at Hyundai and Chevrolet dealerships.
The two car companies are the first mainstream automakers to start offering new vehicles tricked out with Apple and Google's automotive-oriented operating systems (that aren't Ferraris, that is). The software—part of that growing class of car tech commonly referred to as "infotainment systems"—connect to phones to pipe calls, messages, music, navigation and other mobile features to vehicle consoles. Apple's CarPlay and Google's Android Auto both aim to win drivers over, but so far, the long ramp-ups have produced a lot of hype and a lot of promises, but few real-world examples.
Now Hyundai and Chevy will hit the road with one or both of these systems in tow. Seemingly all of a sudden, the fight to smarten up your dashboard has begun in earnest.
Chevrolet's 14
On Wednesday, General Motors, Chevrolet's parent company, announced that Apple CarPlay and Google's Android Auto would be available in 14 different 2016 car models, including the Cruze compact car hitting the market on June 24.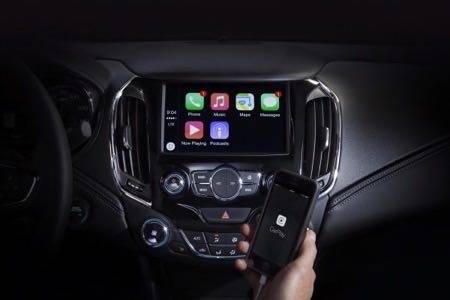 Chevy will support both sets of auto-optimized software through new versions of its MyLink smart dashboard system.
MyLink, which is already available in Chevy cars and trucks, lets owners pull up either Android Auto or CarPlay, depending on which smartphone they plug into the system. The announcement notes a caveat, however: Only the seven-inch MyLink system will be compatible with both platforms. The eight-inch version will only offer CarPlay to start, with support for Android Auto to follow at some point later.
"We expect to offer Android Auto on the 8-inch system once the validation work is completed, it is just a matter of time," a GM spokesperson told me when I asked about the discrepancy.
Hyundai's One
Despite GM's bold, 14-vehicle plan, Hyundai has beaten the American car company to the punch. The Verge reported Tuesday that the first batch of 2015 Sonatas with Android Auto on board have rolled off the assembly line, and that more Hyundai vehicles would come equipped with Android Auto later in 2015.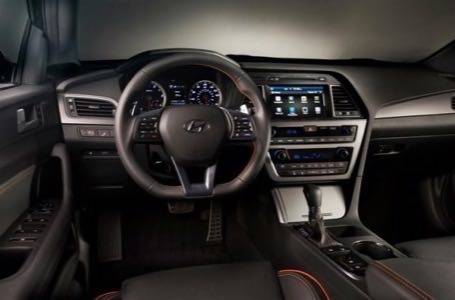 Interestingly, where Android Auto is absent from Chevy's eight-inch MyLink system, so too is CarPlay missing in all of Hyundai's offerings.
Back in November, the South Korean auto company issued two different press releases, each claiming that it would offer versions of the 2015 Sonata with Android Auto and CarPlay. As the 2015 model year winds down, Hyundai appears to have only just now pulled off half of its claim, with no whiff of CarPlay at all. I've contacted Hyundai for more information, and will update this post if the company responds.
Two Platforms, Two Plans
Despite the excitement of seeing the software finally accelerating toward the market, the car companies' varying approaches, at least initially, may conjure more questions than answers.
What happens if a driver buys a car with Android Auto built in, but then switches to an iPhone? If bugs force a navigation application to crash while you're en route, could that pose a safety hazard? Are there other stability or performance issues that come with, say, a Chevy MyLink system that supposedly supports both platforms?
With Hyundai and Chevy both jumping into the smart dashboard game at nearly the same time, there's at least one question that may have an answer: How long will it take for the rest of the auto industry to follow suit? Probably not long.
Chevrolet Android Auto and CarPlay photos courtesy of Chevrolet and General Motors; Hyundai Android Auto photo courtesy of Hyundai