With Cortana expanding to iOS and Android, and Apple working on upgrades to its own personal assistant, Google Now can't take anything for granted. At Google I/O in San Francisco today, we got a preview of Now on Tap, a new feature arriving with Android M.
As the name suggests, it works with a tap-and-hold on the Home button. The clever part is that Google Now can scan whatever's on screen—whether a chat conversation or a Web page—and bring up relevant information.
See also: Here's What's New In Android M
One example shown on stage was a movie mentioned in an email: Now on Tap brought up reviews, information and a trailer with one push. In another example, tapping on a photo of Hugh Laurie on a website brought up background information about the actor.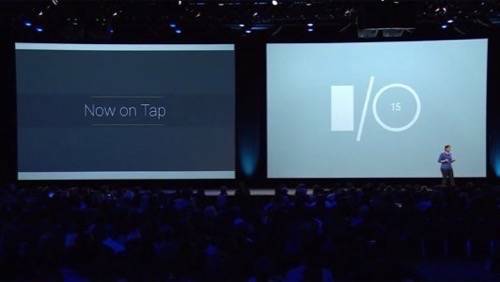 Now on Tap was also able to scan a thread inside a third-party chat app and create a reminder to pick up dry cleaning, because that's what the conversation was about. Another demo showed a Skrillex song in Spotify (not a Google app of course); asking "what's his real name?" brought up the correct answer.
In short, it makes Google Now better able to identify key items of interest within apps, parse natural language and prompts, and then take action on them. This is on top of other recent improvements to Google's digital assistant: it now works with third-party apps and is expanding its reach into more areas.
"Too often, you have to leave what you're doing just to look for what you need somewhere else on your phone," explains the official blog post. "With Now on Tap, you can simply tap and hold the home button for assistance without having to leave what you're doing — whether you're in an app or on a website." No effort is needed on the part of developers provided their apps are indexed by Google.
Aparna Chennapragada, Google Now's product director, emphasized the three pillars of Google Now: Context, Answers and Actions. It's clear that in the digital assistant race, Google is keen to stay ahead of the competition. Now on Tap is going to arrive with Android M in the third quarter of 2015.
Screenshots of Google I/O taken by ReadWrite