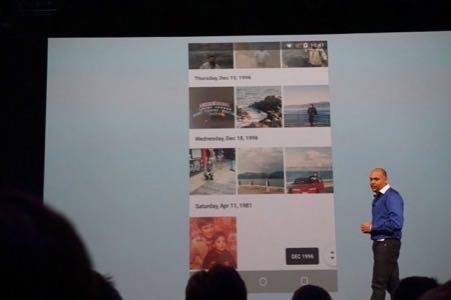 These days, having the ability to capture digital photos and videos on a whim with our mobile devices of choice has become almost effortless. What's proven less than effortless is how we organize this overwhelming accumulation of data over time.
Most of us wind up with a virtual shoebox of digital imagery that we hoard in hopes that it'll come in handy at some unforeseen point in the future—like a scrapbook that never gets made.
At the Google I/O conference on Thursday, Anil Sabharwal, a director of product management, said that by "applying machine language and intelligence" to this chaotic smorgasbord, Google Photos will automate that process. If that doesn't seal the deal, Google is giving us unlimited storage for all of these memories and moments, to boot.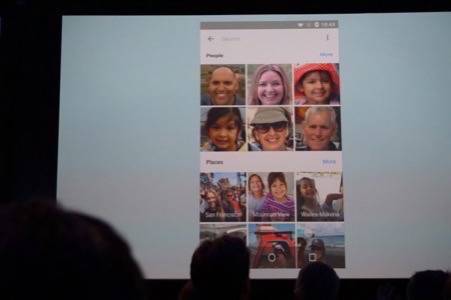 What's The Big Idea, Google Photos?
Google Photos is the successor to Picasa, an early Google acquisition, and Google+, Google's photo-centric social network.
This third attempt at the photo-sharing market centers around three big ideas, Sabharwal said: giving users a safe, private home for all of their photos and videos that's accessible from any device; taking "the work" out of photos and letting users "focus on making memories, not managing them"; and giving them an easy way to share and save these memories with others.
He demonstrated Google Photos with a gallery that was organized not only by time, as we've seen from practically every other photo-organizing app under the sun, but by context. People, places, and things that feature most prominently in a user's collection are moved to the front, where they're most easily accessible. Browsing from image to image seemed very fluid and quick in the demonstration.
These images can be easily grouped and summoned by their context—people involved, or an event like a snowstorm in Toronto, as Sabharwal showed us—and edited on the go to make "collages, animations, movies with soundtracks, and more." Google even uses facial-recognition technologies to group people together.
How Safe And Unlimited?
If you trust Google with your email, as Gmail users do, or already use Google+ for photos, this probably won't give you pause. But if you're used to keeping the bulk of your photos stored locally on a desktop computer and only selectively uploading certain photos, you'll have to think through whether you're comfortable with the idea.
Google is hardly alone here: Amazon, Facebook, Dropbox, and Apple, too, are pushing people to store all their photos online by default, while only sharing some publicly or with friends.
Google Photos seems like a promising addition to the stable of image and video organization tools available today; we'll keep an eye on how it lives up to its claims and report our full findings once we get a chance to play with it.
Google Photos will be available for the Web and iOS and Android devices today.
Photos by Adriana Lee for ReadWrite