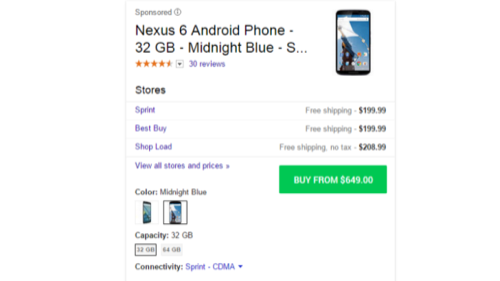 It's already pretty easy to go shopping on the web, but Google may have a way to make it even easier. A new "Buy" button is set to make an appearance alongside Google Search results, said Google Chief Business Officer Omid Kordestani at the Code Conference on Wednesday.
"There's going to be a buy button," said Kordestani, as reported by the BBC. "It's going to be imminent."
The Buy button would allow users to stay within Google's search platform, reducing the "friction" between the impulse to buy and actually doing so. Users won't have to navigate to retailers' websites to follow through on their shopping desires, while Google will presumably collect a small percentage on each successful purchase.
It's unclear just now how the system will work in practice, though—including whether retailers will be able to opt in or out of the system, and what impact refusing the system would have on search rankings.
Chances are very good the tech giant will reveal more details at the Google I/O conference. We'll know soon, but one thing is clear now: Google definitely has plans to make it easier for you to spend your money online.
Lead photo by Gayle Nicholson; Google Search Buy button screen captured and modified by Brian P. Rubin for ReadWrite