Dave Burke, Google's vice president of engineering for Android, took to the stage at Google I/O Thursday to reveal a few cool new features that's coming to Android M. The new features focus on refining the user experience that was ushered in with Android L last year.
"We're working incredibly hard to release our most polished Android release to date," said Burke.
App Permissions
To start, Android M will offer users finer-grained control over app permissions. Currently, when Android users download new apps, they grant broad permissions to various features and data on a device. This has been a source of frustration for users and at times a cause for security concerns, with apps from little-known developers asking for too much personal data.
With Android M, users will have the ability to decide which features each app will be able to access.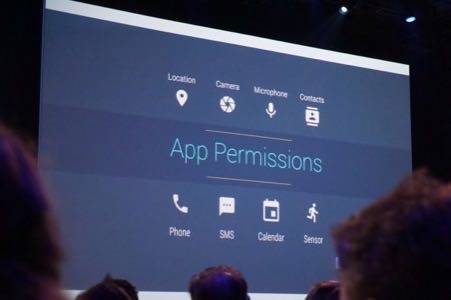 For instance, Burke demonstrated the new permissions feature using WhatsApp. When he tapped the microphone icon to send a voice message, a dialogue box appeared to ask if he would grant permission for WhatsApp to use the device's microphone. Permissions will come up each time an app wants to access a different part of your device's system.
Chrome Tabs & App Links
Apps that give users links on the Web will now have the ability to create in-app Chrome Tabs, rather than launching the Chrome app separately. Even better, those in-app tabs will still retain a user's Chrome data, including profiles, preferences, and passwords.
A feature called New App Links gives developers the ability to eliminate the annoying "disambig"—short for "disambiguation"—boxes that pop up when there are multiple ways to access particular links. When someone emails you a link to Twitter, you'll be able to click it and jump right into the Twitter app to see it, rather than have to decide between Twitter or your web browser each time.
Android Pay & Fingerprint Support
The name says it all: Android Pay is Google's new mobile payments service to compete with Apple Pay. Burke said that Android Pay will be available at 700,000 stores across the United States, and will work at any payment terminal equipped with NFC. To use it, users will simply unlock their phones and wave their devices on the pay terminal.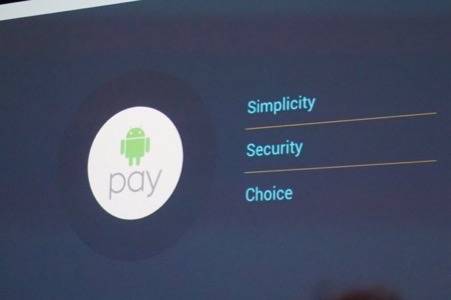 Android M will also bring fingerprint support to apps, Android Pay in particular, though it's contingent on devices having those sensors built in by manufacturers. Devices like Samsung's Galaxy S6 and Note 4 have fingerprint sensors, but with M's support, expect to see those sensors on a lot more devices before too long.
Doze
Burke also explained that Android M will bring a new power-saving feature to devices called Doze. Using devices' built-in motion sensing capabilities, Doze will know whether or not a devices is in someone's hands, and will go into a deeper powered down state to save battery in the long run. However, it won't turn off entirely, since it'll still be able to activate alarms or wake up for incoming chat requests.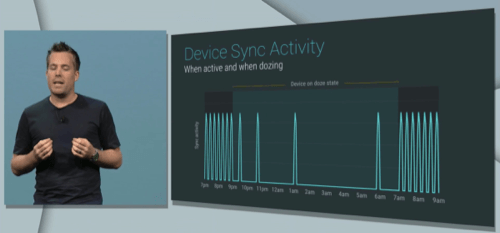 Burke said that two Nexus 9 tablets were tested head to head—one with Android L, one with Android M. The Android M tablet was able to last two times longer than the one with Android L.
Other Details
Soon Micro USB will disappear from Android devices as Google is bringing in USB Type C support. Android M will also bring in smarter text-selection controls, as well as better control over volume streams.
The developer preview for Android M is available today, and the official release is set to hit devices starting in the third quarter of 2015.
Screenshots by David Nield and Brian P. Rubin for ReadWrite