The rumors were true: Microsoft has confirmed that Cortana is coming to iOS and Android later this year. Most of the voice assistant's functionality will be available on Apple and Google's platforms, though users won't be able to launch apps or toggle settings as they can on Windows Phone.
For anyone with more than a passing interest in Microsoft's journey under CEO Satya Nadella, the move won't be a surprise. The Redmond firm has been busy focusing on getting its mobile apps available on all platforms (such as its flagship Office suite), and making Windows 10 work better across computers, smartphones, tablets and even game consoles.
See also: Google Now's Open API Plans Could Spell Trouble for Siri And Cortana
The new Cortana releases tie into a newly unveiled Phone Assistant app for Windows 10, which aims to make using the desktop software with iOS and Android devices easier.
Cortana Grows Up And Moves Out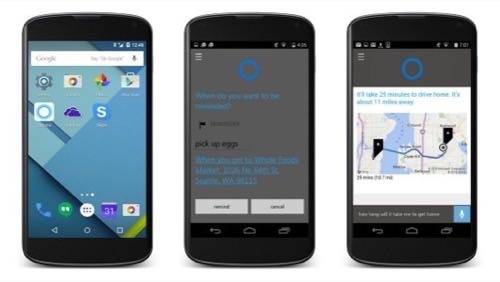 To take on Google Now and Apple's Siri, Microsoft has been focusing on Cortana as an integral part of the Windows 10 operating system (OS), due to arrive this summer. The company wants to offer ubiquitous access, so it plans on bringing the assistant to desktops, laptops, the Xbox One, Windows 10 Mobile devices and even competing platforms.
Cortana on iOS and Android will recognize who you are, sync your notebooks across devices, and display notifications about reminders and updates. You'll be able to tap into its search capabilities and access anything that's available in the cloud (like results from your favorite sports team).
See also: Microsoft's Edge Will Let You Scribble On The Web—And That's Awesome
Aside from the ability to launch specific apps or toggle device settings with your voice (something Apple and Google doesn't allow), the experience will be much the same as it is on Windows Phone.
The Android Cortana app is scheduled for a late June release with the iOS version following "later this year." We still don't have an official release date for Windows 10—July is a good bet—but once it arrives, it should come with decent iOS and Android compatibility out of the box.
Talking Strategy
Bringing Cortana to competing platforms looks directly opposed to Apple's strategy. (Good luck trying to get your Android or Windows Phone device talking happily to a Mac.) But it's a common sense approach when you've got a sliver of the mobile phone market—some 3.8 percent in the US according to the latest figures.
So far, Windows 10 looks like Microsoft's best shot at gaining ground, as a growing number of people seem intrigued enough to at least try out the preview version. The company obviously wants to attract new users, while giving the initiated a reason to stay.
As Google Chrome proves, getting your software on your competitors' platforms can bring some benefits. Microsoft is likely crossing its fingers, hoping that embracing iOS and Android will draw users towards Windows. But tech maker beware: At the same time, the strategy could backfire, ensuring Windows is less vital to Microsoft's overall success.
Images courtesy of Microsoft