MediaTek, a Taiwan-based semiconductor company, took to the Wearable World Congress floor last week to show off a new way for makers to bring their ideas off the drawing board and into the real world. Priced at just $79, the LinkIt One development kit seems geared specifically for tomorrow's Internet of Things and wearable tech entrepreneurs.
Big Power, Little Chip
LinkIt One relies on the Aster 2502 chipset, a tiny-but-powerful system-on-a-chip that boasts 4MB of RAM and 4MB of flash memory, as well as support for Bluetooth LE, Wi-Fi, GSM cellular connectivity, and more. The chip itself is only about half the size of your pinkie nail, which leaves plenty of room to pack in whatever other hardware you might want to build.
The hardware platform includes a Arduino-based developer board made by Seeed Studios, the same Chinese company working on Pebble Time smartstrap compatibility.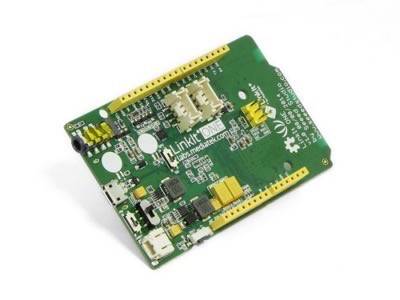 "Pretty much anything you want to do with [the Internet of Things] in home or a wearable product, you use this board to design your product," Marc Naddell, VP of MediaTek Labs, tol me. MediaTek Labs represents the company's attempt to branch out into maker-focused areas.
Currently, most of MediaTek's business comes from contracts with big tech companies; their chips show up in dumb phones, smartphones, DVD and Blu-Ray players, and even the Xbox 360 console. But Naddell said that they recognize the innovations that are happening on much smaller scales, and wanted to get in on the action.
"We want to attract innovation, so provide a platform for anyone basically to create their concept and have success, whether it's just as a hobby or whether they plan to do a commercial business," he said.
Of course, don't think that MediaTek Labs' LinkIt platform and its low price tag is a sign of the company's altruism. Getting in with the makers means more MediaTek chips will be out in the world.
"We want to put our chipsets in the hands of the next generation customers, so whether there's a new disruptor out there, or the next creator of a new device kit, we'd like to see that being done with MediaTek's chipset," said Naddell.
As the world of computing continues to shrink, so does the cost of that computing. It wasn't too long ago that we heard about the crowdfunding success of Chip, a compact, $9 computer also geared towards makers who want to tackle tech challenges. MediaTek's Aster 2502 chipset costs about eight times as much, but it's also a whole lot smaller, and comes with the backing of MediaTek's 18 year corporate track record and support system.
Brave New Brew
Naddell said that the LinkIt One's versatility is already bearing fruit, with recent projects on display at Maker Faire UK.
One demo we showed at the Maker Faire was a smart brewer. Somebody wanted to brew their own alcohols from their home, they basically would put their ingredients into this air sealed, airtight container, and it has sensors on the inside to detect pH level, pressure, temperature, alcohol level, those kinds of things.

Sensors were coming out of the bottom of the lid, so you could see what's going on inside the airtight container.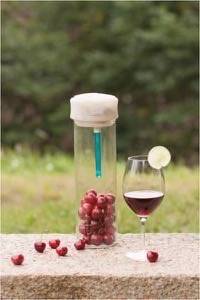 The markets for wearables and the Internet of Things are still wide open, so it's telling that huge companies like Flextronics and MediaTek acknowledge the importance of garage inventors, and have developed new means for them to give shape to their ideas.
If nothing else, the LinkIt One might definitely give new meaning to the word "microbrew."
LinkIt One and smart brewer images courtesy of MediaTek