Since Apple announced its HomeKit smart home initiative last year, it's been mostly quiet about just how iPhones and other Apple gadgets will wrangle those connected devices. Now, however, the company may have a fancy new app in the works—complete with virtual rooms, a clever and apparently easy-to-grasp metaphor for running a smart home.
Apple's approach, according to a 9to5Mac report, will be to launch a new "Home" app for controlling smart-home gadgets—think smart locks, sensors, garage openers, thermostats, lights, security cameras and other connected appliances. The Home app will sort gadgets by function and location into a visual arrangement of virtual rooms
The goal is to simplify the otherwise bewildering task of finding, adding and controlling smart devices and appliances from Apple and other companies.
See also: Apple TV Will Reportedly Get Siri And Apps—But There's More In Store
Smart homes are quite likely to be collections of disparate gadgets from various manufacturers that need to identify and share information with each other as well as with a controlling "hub." Giving users an intuitive way to grasp what's where and who's doing what is something this industry badly needs.
Here's what Apple's take supposedly looks like.
The Kit And Kaboodle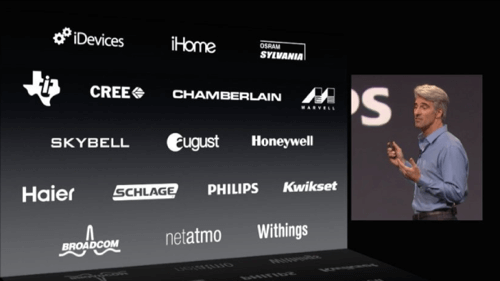 When it comes to smart home systems, interfaces matter. Samsung's still relatively new SmartThings division has a powerful, though complex, mobile app that it has been trying to simplify for users. Revolv, now owned by Google's Nest division, used to offer an app with simple setup and management features, using graphical representations to symbolize connections to devices.
See also: Apple Makes Its Move In The Smart Home With HomeKit
Apple's version might be even easier. The app, which supposedly sports a house icon against a dark yellow background, reportedly connects to a user's Apple TV, using that as a hub or stationary command center for the system. There's still a big question mark over how well it works, though—the Apple blog says that in its current form, it has only basic, limited features, and so far, only Apple employees have been allowed to take it for a spin.
The new "Home" app—or whatever it will be officially called when it debuts (possibly with iOS 9)—seems like just the sort of thing Apple would want to spotlight at its Worldwide Developers Conference keynote in June. But that's only if the app's ready for public viewing, which isn't at all certain yet.
As 9to5Mac notes, the app might be too basic and unrefined at this point. Even if it's not, it might be intended for use solely within Apple's walls as a testing or development tool.
If the latter is true, then people might manage their "Apple smart home" using their Siri voice assistant to control third-party apps. In essence, that would let people talk to their iPhones, Apple Watches and likely Apple TVs to remote control their home appliances.
Bring It On Home
Either way, Apple will have to pick a path and fairly soon. The tech giant announced its HomeKit framework last year, and it's been losing steam in this area ever since. Rumors of more delays prompted an uncharacteristic Apple response in which it publicly promised that its first gadgets to support HomeKit will debut next month.
When they arrive, users will have to have something with which to manage them. Otherwise, it might start looking like Apple bit off more than it could chew in the complicated smart-home arena.
Simplicity is something this area sorely needs, if smart homes are ever going to attract broad interest. Of course, it has to be good, too. Launching an "Apple Maps bad" HomeKit initiative could ding the whole industry. It's not hard to imagine even Apple loyalists (who are legion) walking away from a crummy experience and thinking, "If even Apple can't make this work, then no one can."
If Apple does launch the new Home app soon—and if it works—its new metaphor could go a long way toward helping newcomers understand just why they'd want to equip their homes with connected, smart gadgets. In that way, you can imagine the smart-home industry at large holding its breath as WWDC opens. Next month, we'll know if it's ready to exhale.
Screenshots courtesy of Apple, captured by ReadWrite