Google wants Android Wear developers to get fit, to get with the program, to go the extra mile—and to have fun while doing so. And it's going to show them how.
The tech giant has just unveiled Games in Motion, an open-source smartwatch game that logs fitness data while pitting runners against imaginary enemies. The game, which appeared on the Android Developers Blog on Wednesday, looks like a Google push for more Android Wear apps that more fully exploit smartwatch sensors and other capabilities.
The majority of existing Android Wear games on the Play Store currently rely almost wholly on touchscreen swipes for user interaction. Games in Motion, meanwhile, combines running data and the touchscreen UI to create something new.
Secret Agent, Man
The premise of the game couldn't be simpler:
Do you ever go on a job and feel like there is a lack of incentive to help you run better? What if you were a secret agent and had to use your speed and your nifty gadget to complete missions?
From there, the game pings your Android Wear device and provides on-screen prompts while you run. The app triggers in-game events based on how long you've been running. In one scenario, for instance, you're only 90 seconds into your run before the game tells you there's a zombie on your tail.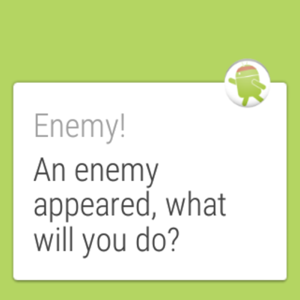 Then you'd get to choose an action—here, to blend in by acting like a zombie or to throw an axe at your undead stalker. The choices aren't equal, though—one equals a defeated zombie, and the other equals mission failure. (You'll have to play—or read the code—to find out which is which.)
It's not a revolutionary game mechanic, but it's interesting in the way it combines a user's running data with interactive events. Maybe a developer with more creative ideas can take this idea and, well, run with it.
How It Works
Google's blog post highlights the various Android features Games in Motion uses to realize such scenarios. Android Wear connects runners' wrists to their phones; Google Play Games unlocks achievements; the Google Fit API logs fitness data; four different Android audio APIs come together to provide in-game speech during audio playback.
Altogether, Games In Motion seems like a novel use of an Android Wear device—even though the game itself may not sound all that incredible on its own. But building an awesome game wasn't really Google's aim in the first place, since it posted the game on GitHub for developers to dissect and use as a springboard for their own ideas.
A few existing running apps have already taken a stab at making running more fun. Runtastic's Story Running, for instance, lets you download audiobook-style stories accompanied by music whose tempo is supposed to encourage you to adjust your pace. The app Zombies, Run!, meanwhile, aims to immerse you (via headphone audio) in a zombie apocalypse that just happens to require a lot of, well, running. Both are effectively smartphone-based, though.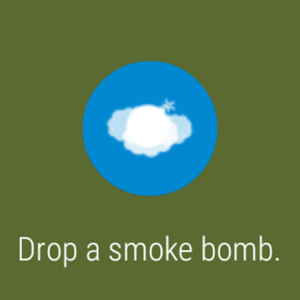 Google still faces an uphill battle with Android Wear, which has been available since last summer and yet isn't really lighting the world on fire. Maybe its new sample game will spark developers' imaginations and spur an Android Wear renaissance. It's also possible that Android Wear, at least in its current incarnation, simply isn't cut out for compelling gaming.
Lead image by Frank Kovalchek; Games in Motion images courtesy of Google