If really want a smartwatch that costs as much as a used car but don't have an iPhone, does Tag Heuer have a deal for you.
Its forthcoming Android Wear smartwatch—a partnership between the Swiss watchmaker and Google—will offer comparatively long 40 hours of battery life. It's not clear whether that figure accounts for the always-on display or not, but so far Android Wear devices can manage a day and a half with the display turned off.
In either case, that battery life comes with a hefty fee: a whopping $1,400 price tag. It's due to launch in October or November, Jean-Claude Biver, who heads the watch division of Tag Heuer's parent company LVMH, told Bloomberg.
See also: With The Tag Heuer Deal, Google Needs To Step Up Its Smartwatch Game
Biver provided the details while attending the Dubai Mall opening of a Hublot Boutique, another LVMH watch brand. When asked about the Android Wear watch's competition with the Apple Watch, Biver expressed nothing but confidence:
I hope they sell millions and millions and millions of them. The more they sell the more a few people will want something different and come to Tag Heuer.
Android Wear In The Stratosphere
Tag Heuer announced its team-up with Google and Intel at a ceremonial cheese-cutting in March. At the time, I noted that Google would need to revamp and revise its Android Wear operating system to bring it up to par with Apple's premium-looking Apple Watch OS.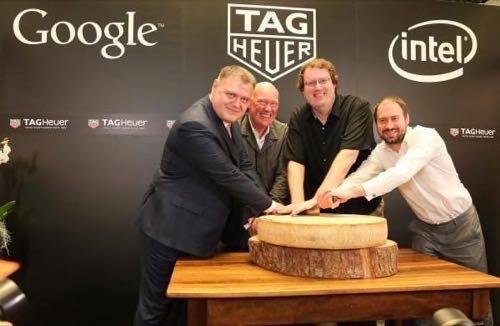 Since then, Google has unveiled the latest version of its wearable operating system, Android Wear 5.1, which is slowly rolling out to smartwatches. While it adds a more intuitive UI, some neat gesture-based controls, and some form of pop-up notifications, you still have to wonder about how it'll look and feel on a $1,400 watch. To my eyes, the OS still feels like it's in the experimental phase, and it might not be able to live up to Tag Heuer's presumably refined standards.
Since Tag Heuer's rubber watch straps seem to cost around the same amount as entire Android Wear watches, it's not too surprising that the fruits of its Google partnership will have a high price tag, commensurate with its other traditional watch offerings. And a 40 hour battery life is certainly impressive considering the power consumption required for most other smartwtaches running the Android Wear OS.
It'll be interesting to hear what else—if anything—sets the Tag Heuer Android Wear watch apart from its cheaper brethren. Perhaps in addition to having a bigger battery, it'll sport larger internal storage, a faster processor—maybe even a SIM card. With such a high price, I'd hope that this thing not only tells time, but also makes me breakfast.
Lead image courtesy of Tag Heuer; cheese photo courtesy of Intel