Mobile commerce is booming. Indeed, according to Forrester's estimates, by 2018, mobile commerce (excluding travel/food services) will exceed 53% of US online sales.
But in a striking reversal to the norm, wherein the rich get access to the future first, mobile commerce is thriving first with the comparatively poor. This suggests that to truly see the future of mobile, you might first want to take a look at India or other emerging economies.
The Money Is In Commerce
While the history of mobile has been consumed with peddling 9-cent apps, and now in-app purchases, the future looks like commerce. According to a VisionMobile Developer Economics report, mobile commerce is "expected to account for 2.5 times as much revenue as the rest of the app economy put together in 2015."
Indeed, much of that commerce craze won't happen in-app at all, but in-browser, as VisionMobile analyst Christina Voskoglou posits:
App developers prioritizing the Mobile Browser (16%) have significantly higher adoption of e-commerce than iOS (11%) and Android (11%). This is explained by the ease of porting an existing web e-commerce app to mobile and leveraging the popularity of existing e-commerce apps.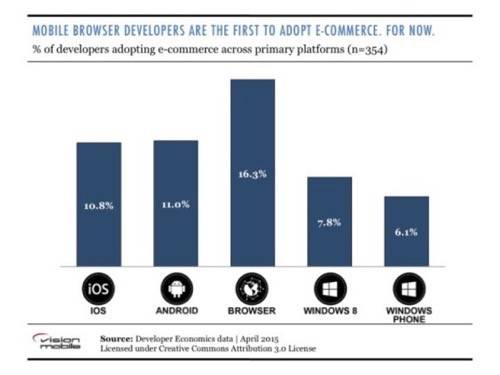 But it's also because most people aren't so dedicated to a particular brand that they want that brand to sell to them through a dedicated app. They browse, they buy, they move on.
This, however, may not tell the whole story.
Getting The Varian Rule Backwards
Google's chief economist, Hal Varian, has a clever way of seeing the future. Now dubbed "the Varian Rule," it goes like this: "A simple way to forecast the future is to look at what rich people have today."
In other words, what the rich do and have today, the middle class will have in roughly five years and the poor in 10.
Unfortunately, India has this "rule" backwards.
While commerce may be the future of mobile, generally, it's increasingly the present for India and other developing economies. As pointed out by Voskoglou, in India mobile commerce skyrocketed from 10% to 50% of online transactions during the last 12 months and should top 70% in 2015.
That's blisteringly fast growth.
But it's also par for the mobile course in India, which has seen companies like retailer Flipkart—India's Amazon.com—and Myntra (now owned by Flipkart) dump the Web entirely for mobile apps. Myntra currently sees 80% of its traffic (and 60% of sales) in its mobile app, which the company expects to propel to 90% of traffic and a greater chunk of sales by the end of 2015.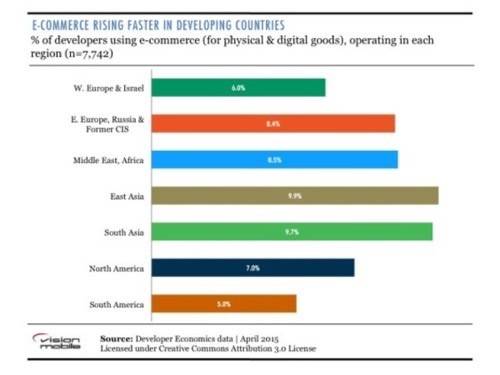 The reason for this torrid mobile commerce growth in India and throughout emerging economies everywhere is necessity. Most of the world can't afford a laptop. Even if they can, their countries often lack the communications infrastructure to reliably access the Internet with it.
But by Ericsson estimates 90% of the world's population over the age of 6 will own a phone by 2020. It therefore makes sense to construct commerce around mobile devices.
Seeing The Future
And much of that commerce will transition to apps, not just the Web. Flipkart has moved to app-only because its customers want a dedicated Flipkart experience to buy through them.
On my own iPhone, I only have two commerce apps, excluding travel: Amazon and Nordstrom. They're the only brands I've deemed worthy of dedicated attention (and let's just say the Amazon app sees a lot more use than the Nordstrom app—I'm not a clothes shopper).
In this app-centric world, Google is the clear winner, as appFigures shows: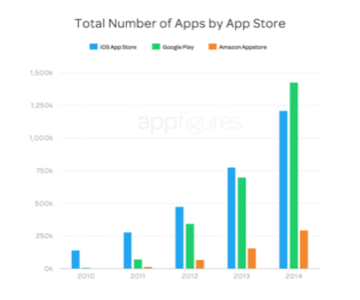 Google's apps and the developers writing for its platform now significantly exceed iOS or any other platform, and have grown much faster.
The answer, as before, is the emerging economies that are growing up on mobile even as the Western economies remain somewhat complacent with their pricey desktops and laptops. Eventually we'll get around to mobile commerce in earnest, with more spending power to support it, but for now, if you want to see the future, look to India.
Lead image courtesy of Radiokafka / Shutterstock.com