Facebook just rolled out a new update for Messenger that lets users place video calls to each other.
Given its name, it's no real surprise that Facebook is bringing "faces" to its messaging service. But the move covers a gaping hole for Messenger. Video has become a fundamental feature in online communication, and the lack of face-to-face chats seemed like a major omission—particularly for a service Facebook hopes to turn into a bona fide platform.
See also: Why Facebook Messenger Is A Platform—And WhatsApp Isn't
A Growing Messaging Juggernaut
According to Facebook, more than 600 million people use Messenger every month. The number seems impressive on the surface, but it's not like users had much of a choice. The company made the standalone Messenger app mandatory last summer for anyone who wanted to continue chatting with their Facebook friends.
Messaging was just the beginning. Last year, the social network rolled out audio calling over its standalone messaging app worldwide, and according to a company rep, Messenger now accounts for "more than 10% of all mobile VoIP (or voice over Internet) calls globally."
Its primary benefit: ease of use. With most messaging apps, users can only communicate with others who have also signed up for the service, and often people must know the phone number, email address or username of the recipient. But Facebook already has a massive user base, and people can easily chat with friends simply by typing in their names. No fuss, and no extra steps to add people necessary.
Now they can fire up Messenger to talk to their faces, too.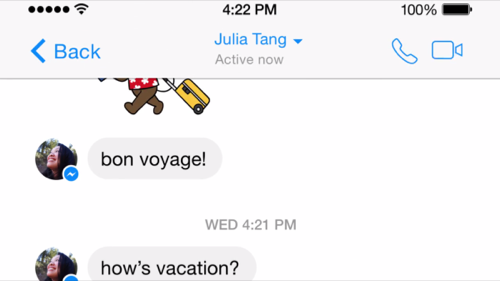 However, privacy-minded individuals may not love the thought of piping even more of their communications through a single company—one that already owns their Facebook texts and calls, shares and logins. And the network's hungry for more.
The Messenger Platform Play
Call Facebook's Messenger strategy an all-out offensive to own as much of the world's communications as possible.
The company announced its platform play last month at the F8 developer conference, where it introduced new developer tools and e-commerce initiatives. Messenger just got the ability to embed GIFs, send money to a user's friends and integrate directly with outside apps. Video has also loomed large recently, with the social network foisting its own embedded videos, as well as the ability to put playable Facebook videos on other sites.
Now video chats have clearly infiltrated Messenger. Less clear is whether those will come with some sort of ad targeting one day. That may come if Facebook ever launches it for the browser version. For now, it's a mobile-only affair, from one smartphone to another. It will be available through updates to the Messenger apps on iPhones and Android devices.
For a look at how it will work, check out Facebook's promo video embedded below.
Images courtesy of Facebook