Wearable World Congress, ReadWrite's signature annual conference in San Francisco on May 19-20, will feature the key players who are shaping wearable technology and the Internet of Things. This series profiles some of the experts who will be speaking at the conference.
Before becoming CEO of Cuff, Deepa Sood was a lawyer, a journalist and an executive at Restoration Hardware. On the side, she played with jewelry design, with the simple notion of making the items that she wears.
That experience comes in handy at Cuff. The company aims to make smart jewelry that's also easy on the eyes, so it designed its namesake flagship device with both fashion and function in mind.
The small unit—which fits inside various bracelet styles, as well as a pendant casing—offers three primary features: phone notifications (via vibration), activity-tracking and safety features. The latter is a critical issue for women, in particular. Cuff can alert designated contacts when you need help, send them a live audio recording and transmit location details with a single button press. Plus, since there's no touchscreen, the device's battery can keep on ticking for a week between charges.
Buy tickets now: Wearable World Congress, May 19-20
Cuff hasn't shipped yet, but it has already attracted plenty of attention. In January, the company announced a partnership with Richline, one of the country's largest jewelry manufacturers. Sood also told me that pre-orders, which began in February and will start shipping this summer, already number in the "hundreds of thousands."
I'm one of them. I submitted my pre-order back in February, so I was particularly interested in chatting with Sood. She'll soon join ReadWrite on stage at Wearable World Congress next month, but I had the opportunity to get acquainted with her in advance. I wanted to learn a bit more about how Cuff got off the ground, and get her take on the state of fashion and wearable technology. Here's an excerpt from our conversation.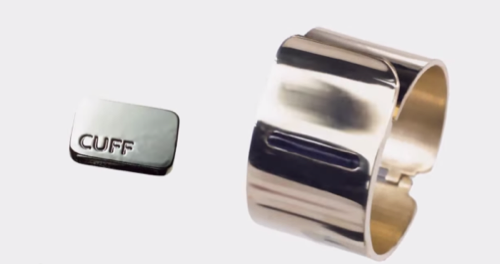 How did your previous experience help lead you to launching Cuff?
It helped build it, but the idea was actually one of those things born out of necessity. Like all good ideas, it was born out of a dinner party where people got drunk at the house. My husband is a Web software guy, and he and his friends were geeking out about the newest fitness tracker. My friends thought the functionality was so cool, but instinctively tried to disguise it within their other jewelry. I thought, why does it have to look one way? That very simple idea became a platform.
Do you think other wearable tech companies are trying do too much with their devices?
I think there's a huge market for people who don't want everything and the kitchen sink duct-taped to their wrist. Some people do want that, but many people that we talk to, and who gravitate toward our product, want less. They want more of a curated experience around their tech—in the same way that fitness-tracking companies are learning that nobody really wants a huge data dump. They want more of a guided experience. People who gravitate to our product are not Luddites; they enjoy technology and want it streamline or simplify their life, versus buying a wearable to have another gadget.
How many people have preordered the product?
I can't remember the exact number, but it's hundreds of thousands of pieces. The Cuff, the electronic, is modular, so it goes in and out of every piece of jewelry we sell. My hypothesis was that some people don't want to wear the same thing every day. I think it is true, because the average purchase on our site when we were selling individual pieces, rather than bundles, was 3.2 pieces. I think we proved the point that you can make the technology more versatile, and it'll go with you.
To hear more from Deepa Sood and other innovators and experts, register for Wearable World Congress 2015, May 19-20 in San Francisco.
Photos courtesy of Deepa Sood and Cuff